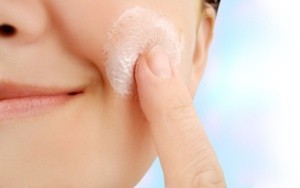 Magazines and television today are overflowing with advertisements for skin care products, expensive skin care products. In a society focused on looking perfect and young, this is expected. However, while I'll never look like the glamorous women I see on TV, I can keep a tight skin regimen for much less than the ads on TV advertise.
Moisturizers
Moisturizing is the key to healthy skin. However, many moisturizers leave the skin feeling greasy, and others cost a fortune. Moist skin shows less wrinkles; imagine them as "plumping" with moisture. Apply moisturizer around the eyes nightly and before applying makeup. You'll notice a difference in fine lines almost immediately.
For those who want a tan, try the tinted moisturizers. These moisturizers, like Jergens Natural Glow, don't turn the skin orange. Instead, they look natural, raising the natural skin tone a few hues. Never use tanning beds or lie in the sun for hours looking for a tan.
A brand name isn't always best in this case. Brands like Eucerine and Vasoline Intensive Care are quite pricey. Instead, look for store brands that include the same ingredients. Likewise, Suave makes a line of moisturizers that is more than reasonable, doesn't aggravate sensitive skin, and works well. Moisturizers with vitamin E pumped into them are best, and applying the moisturizer after showering is even better. No one can apply moisturizer to skin once a week and expect miracles. Consistency is key.
Don't forget the tried and true products, either. Petroleum jelly is still the best product for tough dry skin on heels and elbows. Apply some before bed, slip on a pair of white socks, and the sandpaper on your heels will feel softer in the morning. Cold cream, the kind Grandma used to use, is great for the facial skin as well. Remove makeup with the product, and then dab a bit around the eyes and other facial areas before bed. Both products are available in store brands.
For those wrinkles that remain? Embrace them. They're a natural part of our lives, and who we are doesn't change by the wrinkles on our faces. Remember when they used to be called "laugh lines?" Since when did happiness fall out of style?
Eat Healthy
Skin reflects your diet, and drinking enough water will improve the skin. While other fluids may keep you hydrated, water is essential for the skin to be at its best. Full, moist skin looks younger and glows. Eyes especially look younger after a good night's sleep and plenty of water.
Vitamin A is a requirement for skin and can be gotten from a healthy diet of vegetables. A daily vitamin isn't a bad idea, either.
Acne
Those with mild acne are often convinced that the expensive three and four step treatments such as Proactive are best. While I won't argue that they don't work, there is a better, cheaper way to clear the acne. First off, these products rely on a common ingredient: benzoyl peroxide. Benzoyl peroxide soap can be purchased at pharmacies in its plain form for a fraction of the acne kit's cost. Using it daily with a non-comedogenic skin conditioning moisturizer will help both the budget and the skin.
While the kits direct users to use the product consistently even when there are no breakouts, remember that their goal is to sell more of their product. Instead, once the initial battle with acne is under control use it once a week to manage the skin's oil production. Daily use can be limited to those times when breakouts are known to occur. Learn how your skin responds to the treatment and work with that after researching acne with a doctor or a reputable website.
Read More Comments
Can someone suggest some tips for having glowing skin in the 40+ age bracket?
By Almas
Answers
July 19, 2011
0

found this helpful
Look for glycolic acid under ingredients when buying any facial product. QVC has some excellent products under Dr. Denese brands. type in search word Glycolic acid. the way it works is that glycolic acid is a natural skin irritant that comes from citrus fruit.
it stimulates your skin to renew itself naturally. you also have to exfoliate regularly to remove top dead layer of your skin. the new skin is what gives you a glow. never use a product on your face that has oil, lanolin, or has paraben (wax) in it. only use oil-free on your face. including, make-up, soaps, or lotions.
July 21, 2011
0

found this helpful
Do a facial with lemon and cucumber refreshing and smells good feels cool and draws the skin tight along with looking brighter.
July 22, 2011
0

found this helpful
Regular exercise and a healthy balanced diet is the absolute best secret. ;-)
June 27, 2013
0

found this helpful
I use a very cheap Vitamin E oil. It is made by a company called Weilong, and I buy it here in Hong Kong for 12 HK dollars. It's brilliant. I put it all over my face and body and it seems to soak off the old dead skin.
I gave it to my friend and she raves too. Also, take a daily dose of Lycopene and Melatonin. Health benefits are amazing and skin will glow.
January 11, 2019
0

found this helpful
Try a tinted moisturizer, they give sheer coverage while hydrating. I like the dewy glow they provide.
Answer

this Question

...