This is one of my favourite savoury tarts to make. It's much like a quiche. You can add whatever vegetables you have on hand. The cheese is also optional. My father hates cheese so his cheese-free version is pictured here, too. You can also use a use store bought pie crust.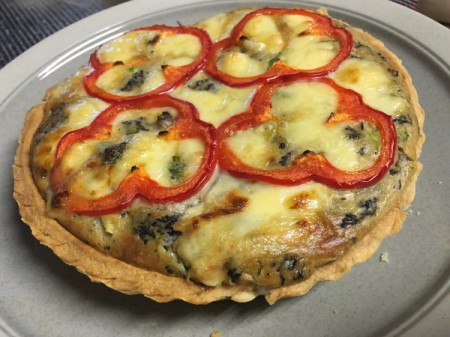 Total Time: 1 hour
Yield: 6-8 servings
Ingredients:
1 1/4 cup flour
1 stick butter, cold
2 Tbsp milk
10 oz mushrooms, sliced
1 medium onion, sliced
1/2 head broccoli
4 slices red pepper
2 eggs
1/4 cup milk
6 oz cheese
1 Tbsp flour
salt and pepper to taste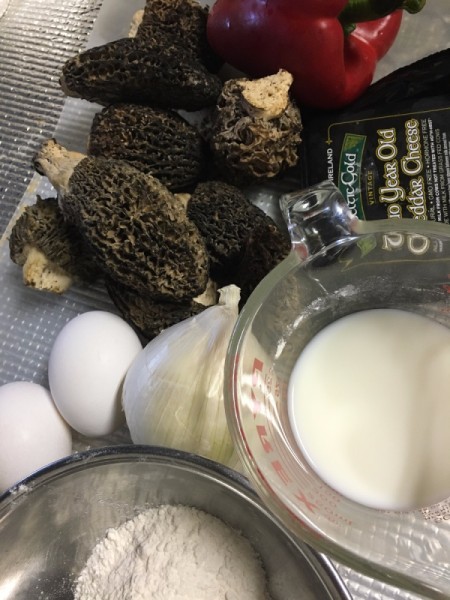 Steps:
Chop your cold stick of butter into small pieces and mix with flour. Use utensils or your fingers to crumble into a sand-like texture. Slowly drizzle in the two tablespoons of milk. Press this mixture into a ball shape, cover with plastic wrap, and set aside in your refrigerator for at least 30 minutes.
Fry your onions, mushroom and broccoli in a pan on medium until lightly browned. Remove pan from heat. Sprinkle flour all over this mixture. Immediately add your milk and mix well. Let cool.
Beat eggs and mix into veggie mixture.
Preheat oven to 375 F. Remove dough ball from refrigerator and roll with a rolling pin. Press into an 8 or 9 inch pie dish. Prick the bottom of the pie crust with a fork several times. Bake for 10-12 minutes, until lightly golden on edges.
Pour the veggie/flour/milk/egg mixture into your half baked crust. Top with cheese and pepper slices.
Bake in oven at 375 F for 22-25 minutes. Let cool. Enjoy!
Comments
July 24, 2016
0

found this helpful
Favourite? Savoury? Me thinks a bit of the Brit is showing through...and I love it, Ducky!
Your Father hates cheese probably because it tastes like cheese. Aging imparts this singular taste. Usually, the longer the cheese is aged, the stronger the cheese flavor. Google for a recipe for pot cheese made with powdered milk. Make Pops a small batch. Let him try this fresh 'cheese' on a hot roll, scone or biscuit. He may ask for seconds.
Now, to the delicious looking tart (not you, sweet cheeks, the one you cooked). I definitely will make this. You didn't say a type of mushroom. I will try Porto bello that have been marinated in a medium sherry. Now, for my question. What type flour did you use. Plain? All purpose? self rising? etc.?
July 26, 2016
0

found this helpful
Haha! Hello, Doug! I think the problem with making dad pot cheese would mean explaining to him he's eating some sort of cheese (although I still want to try it now that I've looked it up). Is there another name I could give him to make him think it's not cheese?
Hard yogurt might work! He loves yogurt! ;)
You can try any mushroom, yes! This was done with morel mushrooms. And yes, that is all purpose. I have a bad habit of just saying "flour" when its plain all purpose. In fact, I never use anything else... but I should be more specific from now on. Enjoy!! :)
July 26, 2016
0

found this helpful
Actually, this stuff is pretty soft, like cream cheese at room temperature. I've made it.You can make it more firm by removing more whey. Tell Dad it's creamed curds (basically, the truth).
July 27, 2016
0

found this helpful
Ahhh, great idea. Creamed curds. "Creamed curds. Like yogurt!" That should suffice :)