My name is Baxter, I am a 9 week old schnoodle. I like to bite instead of love. Can anyone tell my mom If this is normal for a schnoodle. According to everything she has read I am supposed to be very loving. Well I'm not.

Baxter
Answers
February 2, 2005
0

found this helpful
Best Answer
Baxter - all 9 week old puppies like to chew and bite - you should know that with all your little teeth growing and giving you pain. What you shouldn't be doing is snapping at your Mum. If you were mine Baxter I would growl very sharply at you if you snapped and say NO! in a very firm growly voice - just like your natural mother would do and she would probably give you a nip too! I think if I don't do this you may end up a dog that snaps and bites and you may be packing your bags for a one way trip to the vet!!!! I expect you would like lots of firm toys and bones to chew on at the moment to help your teething wouldn't you? So remember Baxter, chewing and sometimes biting a bit too hard in play is OK when you're teething but snapping and biting when approached by your humans is a big no-no and, without correction, you could grow into a very nasty little dog!
Regards and pats
Jo
February 3, 2005
0

found this helpful
Best Answer
Also, flipping him over on his back after he bites you and holding him down with the flat of your hand works well too. Puppies try to find their place in the family fairly quickly and you need to tell him that he's beneath you in the hierarchy and whatever he did made you upset. Turning him on his back and pinning him on the floor for about 30 seconds usually does the trick. Growling helps, but don't get your face too close to his, or he might try to bite you if he is an aggressive puppy. And it's very important to maintain eye contact with him during him being on his back. In a dog pack, weaker animals look away first, so make him look away before you do. Be consistant, if you don't correct him for bad behavior now, he'll do it the rest of his life.....
As a side note, don't hold a grudge with him. Puppies have a short memory (I know pups that forgot where the food dish was :) ), so they need to be corrected RIGHT when the event happens, not seconds or minutes later. If he plays without biting, praise him a lot and let him know he was a good boy.....good luck!
By (Guest Post)
August 6, 2005
1

found this helpful
Best Answer
HI! I also have a schnoodle who loved to bite. I was a little worried just like you. But, he grew out of it and now he's the most loving dog I've ever had. So don't worry it's just a phase!
By Kathy (Guest Post)
August 8, 2005
1

found this helpful
Best Answer
Could he possibly be teething? I have a 15 week old schnoodle and he is biting and chewing everything. We just try to keep him busy with chew toys for puppies and old towels to chew and play with.
It's a chore, but it will pass. Ours is crate trained so when we are exhausted we give him a treat and put him in his crate (den) for a while. He doesn't mind.
Answer

this Question

...
March 12, 2009
0

found this helpful
I just got a little schnoodle. I wanted to find out info on potty training and training. What do I need and just how smart are they?

Amy
Answers
March 14, 2009
0

found this helpful
Best Answer
Dogs are individuals, so who knows how smart he/she will be. The library has many excellent books on the subject. Crate training is still the currant trend. Just remember it takes consistency, time and patience to train any puppy. And above all lots of love. Good luck!
March 14, 2009
0

found this helpful
Best Answer
It's not how smart the dog is; it's how educated the owner is about dog behaviour and training.
Your dog is no different than any other dog. Very regular schedule of feedings followed by long brisk walks for a good 30-40 minutes each walk will have the dog trained now. Include a few more quick pee breaks than you use the restroom during the day and you're good to go.
It really is that fast as long as you stick to it and move. Letting the dog out alone is not exercise to "move things along". They need the sights, sounds and smells of long and varied walks to empty out everything. Always scoop and you'll be a decent neighbor with a happy trained dog.
Answer

this Question

...
I have a white schnoodle. He is 8 months old and I cannot get him to stop peeing in the house. I take him out and he goes to the bathroom outside and then comes in and will pee where ever he is. On the sofa, the floor, my bed, he has even peed on my lap. I am at a loss of what to do. Can anyone offer me help?
By margie from PA
Answers
March 27, 2009
0

found this helpful
Do talk to your Vet about it. When male dogs "pee," they often don't just relieve themselves. They often hold back so they can "scent" their territory as they walk along. This may or may not be what is happening to your dog. Male dogs need to be outside for a long time to finish their peeing, "scenting." Even though they may initially "pee," they may still keep urine in their bladder, and left outside, they will use up their urine on trees, shrubs, etc., because they are leaving their "scent mark." I'm wondering if your male is neutered.
We had a male who was neutered as a pup, before he reached his "maturity," and he never hiked his leg or sprayed. He spent his life squatting like a female, never "spraying" this or that with his urine. Do keep him outside longer, so he has all the chances he needs to "spray" the bushes and trees, and hopefully, you won't be having trouble indoors. I don't think this is partial to any one type of male dog, it may apply to all male breeds.
I remember a male cat that got into my house and sprayed my sofa. It was like a skunk had been in the house, and took me over a week to get rid of the overbearing smell. I truly believe the act of the male is territorial, and not meant to upset anyone. However, an animal behaviorist, or the Vet could give the best solution. Best Wishes!
March 27, 2009
0

found this helpful
I hate to say it but you should invest in a Vet visit. If your puppy is peeing uncontrolably it may be a sign of an underlying health issue. If their is a problem, then you and the Vet can work together to solve it and stop stressing out yourself and your "wee" schnoodle.
March 27, 2009
0

found this helpful
You will have to invest in a dog kennel, I like the wire ones and teach him to be housetrained using the kennel training method, which simply means you watch him all the time he is in the house and all the other times he is in the kennel. He gets our about every 20 minutes or so, you will discover how often he needs to go and then you praise him for going outside. When he pees in the house, say a NO to him in a firm voice and proceed quickly outside, saying "Lets Go Potty". Soon he should learn..also check him for a bladder infection since he is peeing on you, this is usually something that can be cured by antibiotics.
Robyn
March 28, 2009
0

found this helpful
What your dog seems to be doing is marking or claiming things, which isn't a house training problem. The dog should be neutered, if he isn't already. Spaying would be just as important because both sexes mark their territory. Marking territory is a sign of dominance and not related to one particular sex. You have to be confidently and calmly in charge. The more training you do the more confident you will be and the easier it will be for you to be a confident leader.
Regardless of size, all dogs need tons of exercise and training. You should try briskly walking the dog at least twice a day after both meals for a good 30-45 minutes each time. The walk is about more than toileting. For dogs; it's the only excitement in their day. It's all about the sights, sounds and smells. The further you walk the dog, the more they exercise, the more they empty of everything. There's nothing left when you get home and tired dogs are happy dogs.
You'll see immediately how quick the dog is trained. Movement to void properly is a physical need that can't be trained away. Do not turn around as soon as the dog poops. You need to go further every time so the dog doesn't try to hold it in to make their only enjoyment last. You may also be surprised to see that your dog poops twice regularly on a certain walk. Combine some training on those walks/jogs too. It makes it even more fun for them and you know they'll listen no matter what the surroundings.
Don't scold the dog or react in any way if you find an accident inside. If you catch them in the act, move them quickly outside but do not scold. Instead, praise them when they do go outside every time. You want training to be a positive thing. If the dog isn't getting enough exercise or attention; negative attention from scolding is better than no attention at all so it's best to never go that route other than a short correction sound or motion.
Also, make sure you are taking them out enough. In addition to the 2 super long run/walks; you have to take them out for at least 3-4 quick pee walks daily when they are fully trained. Do a few extra before you've got him fully trained. If he's already been neutered or the ample and long walks aren't working, get him to a vet.
March 29, 2009
0

found this helpful
Just a quick tip: Clean the areas he peed on with white vinegar. Just remember to test a hidden patch first for discoloration.
Answer

this Question

...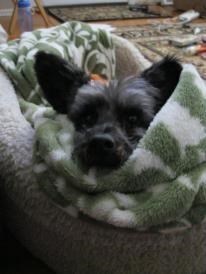 Your Pet's Age
7
Your Pet's Breed
Schnoodle
How and when did you get your pet?
My parents acquired her as a pup.
What does your pet like to do for fun?
She used to have her own version of "fetch" that she played with my dad. He would throw the toy and tell her to get it, and she would point to the toy. Then my dad would get up and "fetch" it for her.
My dad passed away this year, and she doesn't get spoiled as much as she used to ("fetch," specially-made breakfast, lunch and dinner, multiple backrubs a day, etc.) She is very clingy now, and seems fearful when anyone leaves, then she whimpers and cries when you return.
Do you have anything else to share about your pet?
She is adorable and too smart for her own good, but she's a good cuddle-buddy.