I just had to post this tip. I have seen so many that require the use of plates, bottles or some gadget that has to be cleaned later.
I am going to tell you the absolute best way to separate yolks from whites. You will become a pro at it. You will remember this technique for the rest of your life. You will want to share it with your friends. My only regret is that I don't have a video camera to film this technique for you. (Perhaps the editors would like to try their hand at this and get the action on video).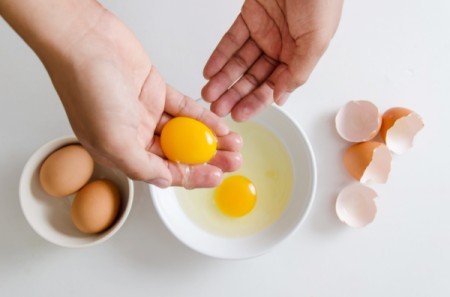 If you like, you can test my tip right now. (I know you want to). Wash your hands, thoroughly! Break an egg into a small deep bowl. With four fingers slightly spread apart, reach into the bowl and under the yolk. Slightly cup your fingers upwards so that the yolk rests atop your fingers where they join the palm. Now lift your fingers just clear of the white. Next, squeeze your fingers together tightly. This will 'cut' away any white still attached to the yolk.
In your hand is the yolk, separated from the white. Total time required: about ten seconds, less when you master the technique. Now, put the yolk wherever you needed it, rinse your hand and get on with your life!