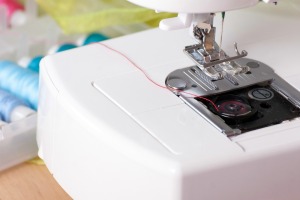 I have an old Lemair Helvetia and the thread won't stay in the needle:/ I've tried making a longer thread, holding it for the first couple seconds that it sews and tension change, but the thread just won't stay. I need to finish off a dress by Saturday, panicking here!
By Nicole.P
Answers

June 20, 2014
1

found this helpful
Is your thread breaking? Old thread does that, if so, replace the thread. Have you checked your tensions?

June 23, 2014
2

found this helpful
I know it's too late for your dress, I hope things worked out for you!
Re the thread coming out of the machine needle, are you sure you're completely lifting the presser foot while threading the needle and/or adjusting the tension? Not lifting the pressure foot all the way will cause the thread to slide out when you start sewing because the upper thread won't properly seat in the thread path if the pressure foot is down during threading the upper thread.
Having the pressure foot in the up position relieves the sew mode pressure on the tension discs - permitting them to open properly to accept the upper thread during threading, and properly adjust the tension for sewing.
There are a lot of other causes for thread slipping out of the needle - incorrect or old thread, machine timing off, bobbin gear worn out, thread tension discs worn. If you continue having the problem you need to take the machine to a good sewing machine repair tech.

August 27, 2016
1

found this helpful
Make sure the thread arm is in it's highest position each time you stop. If it is, the needle won't un-thread when you start to sew.

September 27, 2016
4

found this helpful
This happened to me too, it turned out that I was threading the needle the wrong way, make sure you are threading your needle through the front and not the back.
Hope this helps! :)

October 5, 2016
0

found this helpful
Thank you angel, you saved me 2 days of frustration ; every one suggested to pull the tread at the beginning , and that is not so, the tread jumped out of the needle during sowing after about the second stitch . You are a smart cookie, thank you.
July 20, 2017
0

found this helpful
Yes smart cookienough indeed..this solved my problem and frustration also... thanks
September 2, 2017
0

found this helpful
Thank you so much have not been able to use my maching for a few weeks so frustrated !!!!! I put the needle in every other way but the right way and I was treading from the side not the front as you suggested.Thanks again .onwards and upwards

January 13, 2018
0

found this helpful
OmG YAY!
Just learning to use a sewing machine and I was threading the needle the wrong way! Yay! Its working now! Thanks!
Read More

Answers

I have a Toyota RS2000 sewing machine. I threaded the machine as I usually do, and went to machine up a seam, but the thread kept coming out of the needle when I press the foot to sew. I don't know why. I tried different settings, but it still kept popping out of the eye in the needle! Can you help please?
Answers

poehere
Bronze Post Medal for All Time! 105 Posts
January 27, 2020
0

found this helpful
Best Answer
Normally you should have a long trail of thread at the back of your needle when you start to sew. If you do and the thread keep coming out you should change your needle and make sure it is installed correctly.

gggd
Silver Answer Medal for All Time! 425 Answers
January 27, 2020
0

found this helpful
Best Answer
Either hold the tail of the thread till you actually get a couple stitches into the seam, OR pull a longer thread tail out of the upper thread only. My machine does the same thing if I don't do one of those two steps. The upper thread gets pulled backwards--out of the needle--as the upper thread tension takes up the excess thread.
So, pull more out or hold onto a shorter tail. The bobbin thread should be fine without doing anything special. Good luck and happy sewing!!!
haydemon
Gold Answer Medal for All Time! 617 Answers
January 27, 2020
0

found this helpful
Best Answer
This always happens to me when the tension is too tight. It can also break as well.

January 28, 2020
0

found this helpful
Best Answer
Aside from the answers above, Ive also had this happen when the eye of the needle has a split in it. Replacing with a fresh needle is necessary in this case.
(Sewing over pins will cause this to happen sometimes.) Good luck!
Answer

this Question
Why does my seeing machine keep unthreading the needle as I am sewing?
By sc

Answers

July 22, 2013
0

found this helpful
Two possible reasons. One, your needle thread comes out before you begin because it's short and needs to be held when you start. The other is, you may have a small snag in your needle eye and it cuts it. The next time it happens, look at the end of the thread. If it look somewhat chewed...it's that. I hope this helps.

July 23, 2013
1

found this helpful
There are several reasons your sewing machine needle won't stay threaded, starting with the needle (as noted by the previous poster) is old and going through reasons like:
Wrong needle for the type of thread and fabric you are trying to sew
Upper thread not put through the machine threading path correctly
Machine tension set incorrectly for the type of thread, needle, and fabric you are using
Bobbin gear worn or broken (which prevents the upper thread from being caught by the bobbin during sewing)
Best solution? Check your user guide (aka owner's manual) troubleshooting pages. If you don't have your user guide, check the manufacture website, most have a free download feature for user guides. Print the guide and put it into a 3 ring binder to have at hand during a sewing session.

January 28, 2017
3

found this helpful
I had the same problem. Turned out when someone changed the needle, it was inserted with the flat side toward the front; in my machine the flat side goes toward the back. When I changed the needle to the correct position, it sewed like a charm. Could this be your problem??
April 5, 2017
0

found this helpful
thank you so much for that suggestion. I have and very old Japanese sewing machine with directions in Japanese and was having a lot of trouble.changed the needle and she works like a charm.
June 25, 2017
0

found this helpful
I can't believe this was the problem after struggling for months! Thank you.

November 16, 2017
0

found this helpful
I had this problem and read your comment and went "what the heck, I'm ready to try anything" and flipped the needle around. Worked like a charm! So thank you

January 20, 2018
0

found this helpful
Thank you thank you! Problem solved!

May 18, 2018
0

found this helpful
OMG..I was just about to throw my machine off my deck until I read your suggestion!! Works like a charm now, I am thanking God for you and the Internet.
Read More

Answers