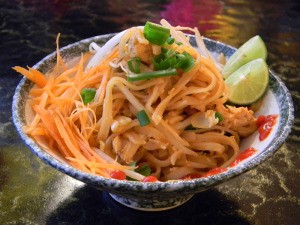 I wanted to learn how to make Pad Thai in honor of my best friend who was from Thailand, who passed away from a stroke. My favorite memories of her were of us laughing together over a good, authentic Pad Thai. This recipe is easy and so delicious!
Ingredients:
1/2 lime
1 egg
4 tsp. fish sauce
3 cloves garlic, minced
1/2 tsp. ground dried chili pepper
ground pepper
1 shallot, minced
2 Tbsp. sugar
2 Tbsp. tamarind
1/2 package of Thai rice noodles
2 Tbsp. vegetable oil
1/2 lb. cooked shrimp
1/2 cup chopped green onion
2 Tbsp. chopped peanuts
1 cup bean sprouts, rinsed
Directions:
Soak the dry noodles in lukewarm water while preparing the other ingredients, for 5-10 minutes. Do not over soak as they will get mushy.
Heat it up a wok or large pot on high heat and pour in oil. Fry the peanuts until toasted and remove them from the wok. Add shallots and garlic, stir them until they start to brown. The noodles should be flexible but not expanded at this point. Drain the noodles and add to the wok. Stir quickly to keep things from sticking.
Add tamarind, sugar, fish sauce, and chili pepper. Stir. The heat should remain high. Make room for the egg by pushing all noodles to the side. Crack the egg onto wok/pot and scramble it until it is almost all cooked. Fold the egg into the noodles. Add shrimp and stir. Add bean sprouts and green onions. Stir a few more times. The noodles should be soft and very tangled.
Pour onto the serving plate and sprinkle with peanuts. Serve hot with wedge of lime on the side and green onions and raw bean sprouts on top.
The second time I made this I had no fish sauce, so I used oyster sauce with a bit of rice wine vinegar in it - it was perfect! You can also find powdered tamarind in almost any major grocery store in the international section. It's usually less than a buck!
By attosa from Los Angeles, CA