Singer Sewing Machine Manuals
Questions
Ask a QuestionHere are the questions asked by community members. Read on to see the answers provided by the ThriftyFun community or ask a new question.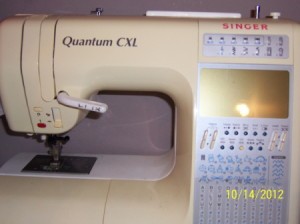 I just bought this machine, but lost the instruction manual in transit. I would appreciate anyone out there with a gift of one or a source for a replacement.
By Theresa O.
Answers
October 22, 2012
0

found this helpful
Download a pdf of the manual (free to download, hard copy is not expensive if you prefer that) here:
You'll need the model number to access the manual, there is a help feature to show where the model number can be found on your machine.
I have downloaded several manuals for myself and for friends, the downloads there are safe, clean-easy to read, and print out beautifully.
I have also purchased a few hard copies of manuals and those too are clean-easy to read, usually come spiral bound, and are delivered quickly.
Enjoy your new machine, it's a lovely sewer:)
October 26, 2012
1

found this helpful
That's so weird! The picture is identical to my machine, all details the same, except mine is labelled a 'Singer Professional XL10'. - maybe the instructions are also identical?mn- Gives you something else to search on. Good luck!
November 11, 2014
0

found this helpful
I have the same sewing machine. I moved and can't find the cord.
I have the foot petal, where I can find a cheap cord? Did not know it, one cord cost $13!
Read More Answers
Where can get or download service manuals for vintage Singer sewing machines?
Answers
June 8, 2020
1

found this helpful
Best Answer
There are quite a few places that offer Singer sewing machine manuals online. One of the first places that I look for the manuals is on the Singer website. If you are not having much luck to find the manual there then you can always go to different forums such as the quilting board www.quiltingboard.com/.../singer-repair-manuals-t190280.html and add your information there for the manual.
I know for a fact that Singer normally has all of their manuals online as long as you can type in the model number of the machine to get what you are looking for.
Answer

this Question

...
My mom was gifted with a Singer sewing machine class 316. I serviced it and it works perfectly! Thank God. However its owner's manual is damaged. Can anybody help me out in finding a free-copy of the manual from the internet? I've been looking for it for quite a while without success. Thanks a lot in advance!
By AlexOn from Guacara, VE
Answers
November 18, 2010
0

found this helpful
You can usually find a manual for a sewing machine, but they are not always free. Follow the instructions on the website to find the exact model number for your Singer sewing machine.
www.sewusa.com/model_help.htm
November 18, 2010
0

found this helpful
November 24, 2010
0

found this helpful
Have you tried www.singerco.com?
March 11, 2014
0

found this helpful
Not sure if you are still looking for the Singer 316G manual, but I have one. Was looking for a part for mine and came across your request. Let me know if I can help. My sewer was my mom's, and the book is like new.
Read More Answers
I need a manual for a Singer 2404 sewing machine. I just purchased it at a yard sale. If anyone has one for free, or if I could make copies and send it back, or knows where I can get one, please let me know. Thanks.
By Nannaof6 from Lagrange, GA
Answers
September 21, 2011
0

found this helpful
Go to: Retrevo.com or manualsonline.com . They have extensive manuals in PDF form and all you have to do is locate it and print it out.
September 22, 2011
0

found this helpful
You can also try the Singer sewing website. They charge a small fee for most of the manuals but it's well worth it for the newer models. Some of the machine manuals are free to download, but most have a cost.
Answer

this Question

...
Dose anyone know where I could find a free manual for a Singer 2404 Merritt sewing machine ?
By annie from Tulsa, OK
Answers
January 22, 2010
0

found this helpful
Try Retrevo.com
February 18, 2011
0

found this helpful
Did you get your manual, Annie? I have one.
Answer

this Question

...
I have been searching for a long time for a repair manual for a Singer Stylist model 413 sewing machine. Does anyone have one or know where I can get one? Thank you.

Read More Answers
I have been looking all over the internet trying to figure out how to change the stitch length on this machine. All I see are options for stitch width and stitch control. Please help!
By Lexi K
Read More Answers
I got a Singer 630 and when I sew and press just once on the pedal, the needle continues to move up and down for at least 3 times. The pedal does not seem to respond immediately. Is this normal?
By DAL
Answers
November 19, 2012
0

found this helpful
It sounds as though your foot pedal needs a visit to the repairman-might be a frayed or bent wire-which could be a fire hazard, btw.
These wonderful vintage electric Singers are absolutely the tops for reliability and beautiful stitches, but they do need occasional professional attention as time takes its inevitable toll.
Also, if you don't have a manual for your machine, you can download a free copy at:
www.singerco.com/.../instruction-manuals
Simply type the numbers '630' (without the ' marks) into the search box and a menu of downloads and hard copy links will come up. Choose the free download to get a gorgeous copy of your models user manual. You can also order a spiral bound reproduction hard copy if you prefer.
November 19, 2012
0

found this helpful
My experience from years ago: The foot pedal has like points in an automobile, if you take off the bottom of the foot pedal. You should see some flat metal like strips. Sometimes just a good cleaning will help! Also use a very fine grade of sand paper and very LIGHTLY go over them. Be sure to clean them and all inside the foot pedal. Use a little alcohol make sure it dries before reattaching the bottom and or also use the "compressed" air spray that comes in a can to use for computers. Hope this helps!
Answer

this Question

...
Archives
ThriftyFun is one of the longest running frugal living communities on the Internet. These are archives of older discussions.
I just purchased a 1914 hand crank Singer sewing machine. After inserting a needle, it runs perfectly. To obtain information and a free manual, I just called Singer. You really can't get better service than that. So, don't pass up something used because you think you can't get a manual.
By Tedebear

Answers:
Singer Sewing Machine Manuals
I just found it. Here you go. singerco.com/accessories/manuals> (02/06/2009)

By Allison
Singer Sewing Machine Manuals
If your machine is working properly you can look on the top and you will find 2 maybe 3 big screw heads and on the bottom the same and you can remove these screws without any danger (fear on your part will put your heart in your pocket though). This only removes the outer shell of even the old machines.
Anything that moves while you move the spindle, handle the way the machine moves is how to oil one or 2 drops is enough. The old machines are easy because they are simple inside. Then replace the top and bottom.
Right now you have no need to bother the tensions except running a small piece of material thru the little flaps, takes out the lint the thread leaves. A good rule of thumb is to take all the thread out of your machine an run the heck out of your machine for 2 or 3 minutes a month even if you don't use it. (02/28/2009)

By gbk
Read More Comments
I'm trying to find a free manual for a Singer Stylist 776 Sewing Machine.

By gina from Casper, WY

Answers:
Singer Sewing Machine Manuals
http://www.amazon.com/gp/offer-listing/B002BJYEVY/ref=dp_olp_used?tag=thrif06-20
You can buy one from Amazon.com for $2.99. (10/18/2010)

By Marjorie
Singer Sewing Machine Manuals
Try these sites
manualsonline.com (10/18/2010)

By Suntydt
Singer Sewing Machine Manuals
Go to freecycle.org and find the group in your area. I have given and received many free things from them, from books to furniture! (10/20/2010)

By Dena Roberts
Singer Sewing Machine Manuals
I just checked singerco.com and you can download and print a free manual for Singer Stylist W1776. I hope that helps some. (10/21/2010)

By Monica
I am looking for a manual for a Singer Handy Stitch. Thanks.
Read More...
How do I find an instruction manual for a singer sewing machine model # 57820?
Read More...
Advertisement
Published by ThriftyFun.
© 1997-2020 by Cumuli, Inc. All Rights Reserved.
https://www.thriftyfun.com/Singer-Sewing-Machine-Manuals-1.html