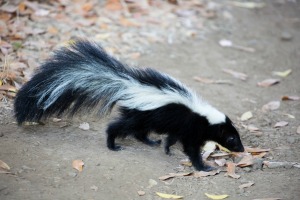 Question:
I am looking for a natural way to get rid of skunks in our yard.
Darrell from Sayre, Oklahoma
Answer:
Darrell,
Controlling skunks isn't easy, but there are some things you can do. First of all, try to determine what they are doing there. Why your yard? Are they rummaging for food in the compost pile, digging up grubs in the lawn?
One common reason skunks show up in our yards is to feast on grubs. If you're noticing a lot of little holes in your lawn, you may have a decent grub population, in which case the skunks will be only too happy to assist you in controlling them. Grubs are the larvae stage of many types of beetles, and there are several organic methods for controlling them, including handpicking adult beetles or applying milky spore to your lawn.
Skunks will also eat unprotected garbage, small rodents, eggs, pet food, nuts and berries, fruit and bird food. They are also attracted to easily accessible sources of water and find the crawl spaces under deck and foundations appealing places to make their dens. Take a look around outdoors.
Are there any berries growing close to the ground, bird feeder spills, brush/wood piles that could harbor insects or pet dishes being left out overnight, etc.? If so, try to reduce or eliminate these attractants. Also, seal up any openings around foundations or decks that are greater than 4 inches around.
No one method of "repelling" skunks seems to work effectively for long, so you may need to employ several strategies for long term control.
Build a Small Fence
If skunks are frequenting a specific area, you may be able to erect a small fence or barrier to keep them out. They are poor jumpers/climbers, but great at digging. The fence will need to go at least 12-18 inches below the ground.
Motion Sensitive Lighting
Because these animals are nocturnal, you might also try installing a motion sensitive floodlight. A sprinkler system set off by motion is another idea.
Commercial Repellents
There are several commercial repellents (usually urine-based) that are said to be effective. These often need to be reapplied after it rains, but some people swear by them. Ask around at feed stores or garden supply centers.
Live Trapping
As a last resort, skunks can be live-trapped and "escorted" out of town. This requires a very small cage (to prevent tail lifting) and extremely careful handling (to prevent bites to you and injury to the animal). I would enlist the help of a wildlife expert at the Department of Natural Resources if going this route.
Ellen
Feedback From Readers
Blood Meal
We've successfully used blood meal (gotten from a greenhouse) to keep animals away, it's very cheap about $2.00/box. It might be worth a try for the perimeter of your yard. It even works to keep deer from eating the trees and squirrels out of the attic.
By Diane
Horizontal Border
Surround the area with a horizontal border that skunks don't like to walk over, like crumpled up black plastic, newspaper, or aluminum foil. Hold these in place with some rocks, landscape pins, or soil.
By Brenda