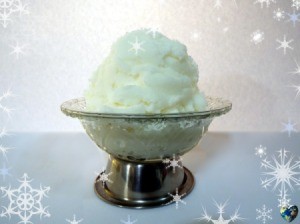 I guess you could call this a garden picture. The snow was harvested from my garden. And too, I don't have an actual recipe. The amounts of all other ingredients would vary according to how much snow was used.
I like to experiment with snow cream and have come up with some interesting variations. I think my favorite was when I substituted Coco-Lopez for part of the milk and sugar. Coco-Lopez is a cream of coconut, very thick and very sweet; one of the main ingredients in piña coladas. It gave the snow cream such a nice taste and smooth texture, I gave the concoction a name, Coconut Snow.
While I haven't tried it, I think a smoothie made with nothing but snow and egg nog would be delicious. I would put the nog in the freezer for an hour or so before using. If I do try it, and the temperature is down to 3 degrees as it was last night, I will be adding a dram of Silver Label Bacardi or Crown Royal.
The pictured snow cream is a little bit different from the standard. With all ingredients very cold, sometimes it's hard to get all the granulated sugar disolved without melting some of the snow. As a result, the snow cream can be a little grainy.
This time I used confectioner's sugar, instead. It all blended in quickly and smoothly. Confectioner's sugar imparts a quite different taste from granulated sugar. At first, I wasn't sure I liked it. After being in the freezer for a while, I determined I liked it better than with regular sugar.
Ices and sorbets aren't as popular in the States as they are in Europe. I may change that on the home front. I do believe snow would be the perfect base for an ice. My next experiment will be with making an ice with snow and white grape juice.
However you choose to make snow cream, traditional or far out, if there are children around, do get them involved. I love nothing better than seeing a big smile of accomplishment on a little one's face when they contribute to a project.
Yes, I ate the whole thing.