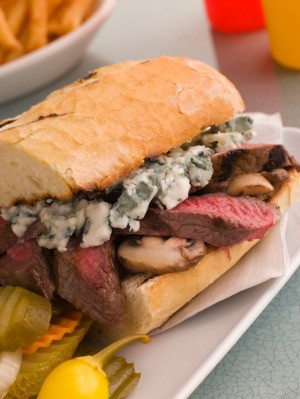 This recipe has my special sauce on it and my family loves it.
Ingredients:
1 2 lb. steak (sliced very thin)
1 bell pepper (cut into strips)
1 medium onion
sliced pepper jack cheese
1 can Rotel, drained (original or your choice)
6 small French loaf buns (cut top out like they do at Subway)
1 1/2 cups mayonnaise
butter
salt, pepper, garlic powder, for seasoning
Directions:
Season your steak with garlic powder, little salt and pepper. In a large skillet put a heaping tablespoon of butter and brown steak a minute or two before adding onion and bell pepper. Cook til tender.
While steak mixture is cooking cut your buns and butter them on tops and bottoms and put in oven to toast. Add sliced cheese to toast. Take your mayonnaise and Rotel and mix well. Be sure to drain Rotel first. Add a lot of black pepper and salt to taste.
Put meat mixture on cheese, add sauce and serve immediately. It is a little messy because of sauce but I never have any leftovers.
Servings:
6
Time:
30 minutes Preparation Time
20 minutes Cooking Time
Source: Bobbie
By Bobbie from Starkville, MS
Read More

Comments