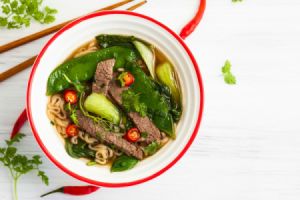 Ingredients
1 small round steak (about 8 oz.), cut into bite size strips * (I use left over meat)
1 yellow onion, diced
2 cloves of garlic, minced
1 green bell pepper, diced
1 red bell pepper, diced
1 Anaheim chili, diced with seeds removed **
1 can black beans, drained
1 cup chicken stock
1 tsp. ground coriander
1 tsp. ground cumin
cayenne or black pepper to taste
1 Tbsp. red pepper flakes (optional)
fresh cilantro, chopped to taste
sour cream to garnish, if you want
*Chicken or shrimp can be substituted for the steak.
** You can use any chili, and if you want the soup really spicy, leave the seeds in.
Directions
Brown steak in skillet sprayed with nonstick spray if not using leftovers. Remove steak from pan. Respray pan with with non stick and add onions, garlic, all bell peppers and chili and "dry" saute until onion is translucent (about 5 minutes). Add black beans, cilantro and chicken stock, return steak to pan, cover and turn heat to medium low and cook for 15 minutes.
Garnish with sour cream.
Serve dish with a salad and bake polenta or warm tortillas.
Serves 4
By Claudia from San Francisco Bay Area