Storing Onions
Solutions
Share on ThriftyFunThis page contains the following solutions. Have something to add? Please share your solution!
We had a few beautiful bowls around the house that weren't being used for anything. I decided to use two of them for our onions and garlic cloves. Now they are easily accessible for cooking with and it gives me a reason to have the bowls that I love out on the counter. :)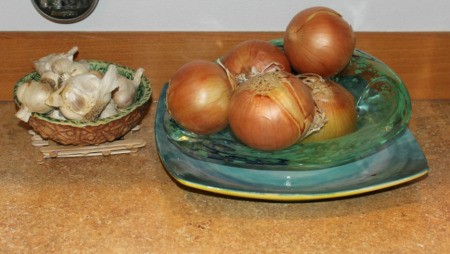 I found this adorable onion-shaped microwave onion-cooker. I decided to purchase it and use it to store onions, which were cut apart, in the refrigerator. This way, by using an onion cooker for storage, it also serves to cook onions too when I need them cooked.
I like buying vegetable and fruit shaped holders :)
March 5, 2005
1

found this helpful
You can hang onions in the basement, garage, or coldest room in the house and they will keep longer. I tie the onions in old pantyhose and seperate them with a twisty tie so they are aired well and I can reuse the hose for next time or to filter oil or something. I hang them with metal hangers by nails, poles, or wherever I can (they look like a funny old horror film but hey, they wasted nothing in the old days either).
I also use the onion peels (all onions, purple is the best) to dye my eggs at Easter and save on using dyes or food coloring. I store the peels in a 10 lb. old onion bag that is made of a mesh material so they can breath and dry out better just incase I get a little onion in there. I boil the eggs in the water with the peels in there and I also use a coffee can to do so.
The rest of the onion trash goes to the neighbors mulch for the garden.
By Mary from Roseville, MI
Questions
Ask a QuestionHere are the questions asked by community members. Read on to see the answers provided by the ThriftyFun community or ask a new question.
How does one store yellow onions so they don't go soft and mushy? I have about 20 pounds of nice big yellow onions and want to store them so I can use them all winter. I live in Winnipeg, Canada, so I can't keep them outside or they will freeze. Thank you for your help!
By Dena Roberts
Answers
August 15, 2017
0

found this helpful
Store them in a cool, dry area, but don't let the onions touch other.
August 15, 2017
0

found this helpful
A cool, dry area like a garage or basement is good.
Answer

this Question

...
June 30, 2017
0

found this helpful
Extend the life of your onions by keeping them dry. Use an old panty hose leg to hang them; tying a knot between each one is even more helpful. This is a page about using pantyhose to store onions.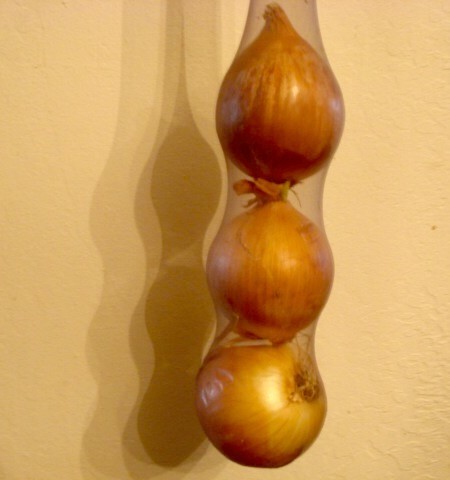 Archives
ThriftyFun is one of the longest running frugal living communities on the Internet. These are archives of older discussions.
September 29, 2010
0

found this helpful
We have white onions we have harvested from the garden. How long can I expect them to last if they are stored in a cool place, in pantyhose?

Hardiness Zone: 7a

By meg from Louisville, KY

Answers:
Storing Onions
I store mine in garage, spread layers of news paper then spread onions on it, they should last all winter, good luck. (06/15/2010)

Storing Onions
Storing them in nylons is a good way. We used to put them in the basement hanging by hooks. It wasn't heated. They lasted all winter. One suggestion is to tie a knot with string between each onion. If you need one or two just cut below the knot (my grandmothers idea). Also if one goes bad it won't the other onion's go bad because they aren't touching. (06/17/2010)

By scott E.
June 15, 2010
0

found this helpful
I planted large onions this year and we have a lot. How do I store them for the winter?

Hardiness Zone: 4a

Barb from Michigan


Answers:
Storing Onions
This is great information, the problem I have now is when to pick them. We have already had a frost and other coming next week. My onions are already a third above ground level (I don't know why, unless this is normal). I'm a first time onion grower in Michigan. So now I can store them, but when do I pick them? Thanks. (09/12/2008)
By wanda
Storing Onions
Hello. After first using part of an onion, whether slicing or dicing it, how do you store the rest of the onion? Would I use a Ziploc Bag? Use an airtight container?

I tried both of these procedures but the partial onion (already sliced) either gets "mushy" or just dries out.

I am not concerned about storing a whole onion. Only how to store it after part of it has already been used (diced or sliced). Any help you can give me on this would be greatly appreciated. Thanks. (03/02/2009)

By Robert F.
April 3, 2007
0

found this helpful
I planted large onions this year and we have a lot. How do I store them for the winter?

Hardiness Zone: 4a

Barb from Michigan

Answers:
Storing Onions
I store onions every winter. We built a cold room in our basement and I usually get a 50 pound bag of onions and break them down to 5 pounds in a net bag..I hang them on the wall..I use the net bags you get onions in the store in or make my bags out of nylon net...They usually last till spring..If I have left overs and they start to sprout I usually dehydrate them for summer. I have been doing this for about 30 years. (08/08/2006)

By Barb from Rothbury, Mi
Storing Onions
The most essental vegetable and easy to store. They, including the tops need a few weeks to dry, then do one of the following storing methods.

Hang Them

When dry the best can be hung in nets or strung together. They will keep n a cool dry place. To start a string take four onions and tie the stalks together, then tie the knotted stalks to a pece of string. Hang this from the roof of your store and then add further onions one at a time , by tying their stalks around the string.

Freeze Them

Skin ,slice and blanch for 2 minute before freezing. Small onions can be frozen whole. When needed add frozen to soups and stews. (08/09/2006)

By Katt
Storing Onions
Storing them in their original form is great, but you can also freeze them. I chop them up and freeze in ziplock bags. Then when I am making chili or meat loaf, they are already chopped and ready to use. You can also store some in slices, great for stir fry, etc. It's nice because once they freeze they separate easily. (08/09/2006)

By Cheryl (http://www.2ewenique.com)
April 3, 2007
0

found this helpful
I had many a potato and onion go bad until I learned to never refrigerate potatoes or dry onions. Never wash them until I'm ready to use them. Store them in a dark, cool space like a closet, garage or pantry. These vegetables require good air circulation.
Read More...