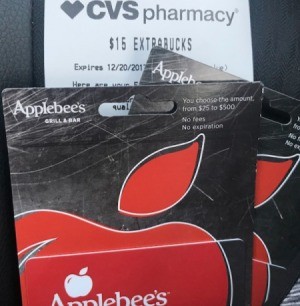 Growing up, I was taught to use money wisely in scenarios where I could save.
Now being engaged to my fiancé - we are slowly getting in the rhythm of joining our bills, budgeting and making compromises. It is a little overwhelming because we both have different viewpoints when it comes to saving and spending money.
With the holidays around the corner means spending money, but you could also spend your money wisely. Throughout the year and even right now - if you look at your local stores circular advertisements like Vons, Safeway, CVS, Albertsons, and so forth - you'll often find a section of the ad that has promotions on purchasing gift cards! (Note: Promotion/Stores do Vary).
For instance, right now at CVS: The ad states if you spend $50 on select gift cards (100's to choose from), you will receive $15 extra bucks (essentially money to spend back at the store. You will need to be a CVS member, it is free to join - it is like a rewards program).
I purchased (2) $25 gift cards to Applebee's, totaling $50. While tackling 2 friends off our Christmas list, we were able to use that $15 coupon we received toward essentials that we needed to restock on such as: tissue, lotion, and vitamins.
Some other promotions, I love are the ones at Vons. Sometimes I would see Spend $100 on Gift Cards, get $15-$20 coupon to spend back at the market. I would usually stock up on gift cards that I use the most like Gas Stations, Target, Walmart. Although I am shelling out money in advance, I am getting a coupon to spend at the grocery store plus I will be using those gift cards regardless because I shop at Target/Walmart and get gas very frequently.