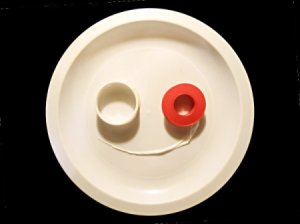 Have I made an important discovery in the field of dental hygiene? Not really. Could there be a time and place where my tip might be welcome? Absolutely.
I was sitting at my computer desk when I sensed a tiny particle of food between two molars. I was deep in thought, planning my next move in the digital restoration of a very old photograph containing the likenesses of my great grandmother and her family.
Fearing losing my train of thought, which is very easy for me, I didn't get up and go to the bathroom for floss. Instead, I inventoried the items on the desk before me. What caught my eye was a roll of Teflon tape I had been using to wrap some electrical contacts. Why not? It's extremely thin. It's tough. It's worth a try.
Talk about interdental stimulation, this is the way to go. This tape is so smooth, using it is like babying your gums. It actually feels good. I like the way it conforms to the different size spaces.
Now, where would this tip be welcome? If you've recently had your teeth cleaned, root planing and scaling, or worse, periodontal surgery; your dentist will insist you keep those gums meticulously clean. Using dental floss at this time can actually be painful.
Teflon tape is as smooth and non irritating as you can get for gums when they are at their most sensitive. Some of you who try it and like it, may want to use it regularly. For a buck, forty-nine a roll, it ain't a bad price. I'm going to keep a roll on my desk. I'll get another for the toolbox.
Safety concerns? Teflon is often used as a surgical implant material. Teflon tape, also called plumber's tape, is used in fittings that come in contact with your drinking water.