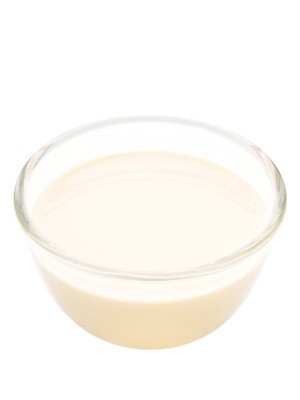 Can you substitute 2% or any kind of milk for evaporated milk in recipes such as pumpkin pies? If so, how much?
By Linda Delcamp from Brighton, MI

Answers
Best Answer
A can of evaporated milk is 12 oz. (1 1/2 cup). You would use an equal amount of whatever you decide to substitute.
Evaporated milk is milk that has had about 60% of its water removed through evaporation. It is thicker, richer and has more flavor than whole milk. If you tried to make pumpkin pie with 2% or even whole milk, it wouldn't be rich like it should and probably wouldn't set up thick enough. You could substitute buttermilk. It would give it a different flavor, but might be good. You could also try using cream, but that might be too rich.
If you are worried about the fat content in evaporated milk, you can buy fat free. I have never used it but maybe someone who has can advise you on the taste.

October 22, 2010
0

found this helpful
Best Answer
Yes, you can substitute the milk without any problem. I always use what I have on hand. Just cut back on the liquid a bit and you'll be fine, or either use the whole amount the recipe calls for and just bake it a bit longer.

Lilac
Silver Feedback Medal for All Time! 450 Feedbacks
October 22, 2010
0

found this helpful
No. It won't work.

October 23, 2010
0

found this helpful
Easy Evaporated Milk: need only dry milkpowder and water.
Measure 1-1/3cup water into jar or bowl, add 1 cup instant dry milk powder,stir or shake to combine. this equals a 12 ounce can of evaporated milk. to make evaporated whole whole milk add 2-Tbsp vegetable oil.
Stir vigorously to emulsify fat with milk. It will separate on standing, mix really well just before using. good in cooking/baking. I have used this for at least 5 years.

October 26, 2010
0

found this helpful
My neighbor lady gave me this recipe that her mother used for years.
Canned Or Sweet Milk
Yield: 1 Cup
3/4 cup Sugar
1/3 cup Water
1/4 cup Oleo
1 cup Powdered Milk
Place first three ingredients in saucepan and bring to a boil.
Pour into blender, slowly add powdered milk as blending.
Blend until smooth
Store covered in refrigerator.

November 23, 2016
0

found this helpful
I need evaporated milk to bake my pumpkin pie. I only have consented &1% milk can I dilute or replace to make this darn pie?
msjodiwms
Bronze Feedback Medal for All Time! 182 Feedbacks
December 16, 2016
0

found this helpful
My mother always had cans of evaporated milk in the house, she diluted the whole product with 2 evaporated milk cans of water, stirring to mix. We used it for cereal and drinking. It is stronger in taste than regular milk but it taste good.
Answer

this Question