Swordfish with Lemon-Garlic Sauce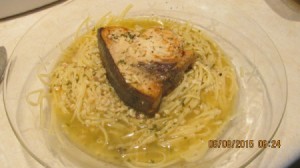 I was looking for a good recipe for Swordfish. Found a few, tweaked a few together and came up with this one. It came out very yummy!
Total Time: about a 30-45 minutes
Yield: 1 1/2 pounds for 3 people
Source: A mix and tweak of many recipes
Ingredients:
1 1/2 lb swordfish (1/2 lb per person) at least 1/2 inch thick
2 Tbsp butter
2 Tbsp olive oil
Lemon - Garlic Sauce
8 garlic cloves, minced
1/4 red pepper flakes
1/2 Tbsp white wine
tsp grated zest from 1 lemon
2 lemon juice
2 Tbsp parsley
Optional
1/2 pound linguine
Steps:
Take swordfish out of the refrigerator about 30 minutes before cooking to bring it to room temperature.
Preheat oven to 400 degrees F. Add the butter and olive oil to a small skillet, and melt over medium-high heat.
When hot, sear the swordfish quickly on both sides, until it browns nicely.
Remove quickly, and transfer to a glass cooking dish for the oven. Pour all pan juices over the swordfish. Sprinkle with some salt & pepper. Put into the oven.
You'll be surprised by how quickly the swordfish steak finishes cooking in the oven. For example, the steak in the photo above was almost 2 inches thick, but it was done after only about 13 minutes in the oven. I usually start checking swordfish after 10 minutes. The moment it flakes easily with a fork, it's done.
You can make the sauce while the swordfish steaks are in the oven. So fast, easy to do, and the smell is addictive.
2. Add 2 tablespoons of butter and olive oil to a small skillet and melt over low heat. Add the garlic and red pepper flakes, and cook over very low heat (you don't want to burn the garlic) until the garlic begins to turn light brown. Set aside until the fish is done.
3. Use a spatula to carefully remove the swordfish from the pan and put it on a serving platter.
4. Add white wine to the swordfish baking pan, and stir to deglaze. Remember to use oven mitts when touching the hot pan! Pour the wine mixture into the skillet with the garlic, and bring it to a simmer over medium heat. Cook for 3 minutes, stirring constantly, to reduce the volume. Remove from the heat. Stir in the grated lemon zest and lemon juice. Pour over the swordfish and garnish with parsley.
I served mine with a platter of linguine (1/2 pound), then the swordfish, and then poured the lemon-garlic sauce over it all. It was terrific!
Add your voice! Click below to comment. ThriftyFun is powered by your wisdom!
Related Content