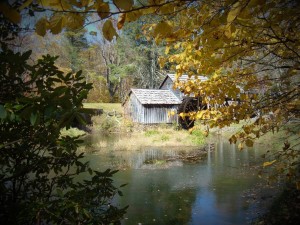 We live in the northern Piedmont area of North Carolina. On a day trip, we can go to the mountains or the beach and have a great time and be back home before bedtime.
Last week, we packed a picnic lunch and went for a drive to the mountains where the trees are peak in color. One of our favorite places to go is Mabry Mill which is a 3 hour drive from our house. It's a nice day trip and the countryside is beautiful all the way. I call it the scenic route to the mountains. Mabry Mill is located in the southern part of the Virginia mountains on the Blue Ridge Parkway.
I love experiencing the change of scenery, especially in the fall of the year when there's a chill in the air and the trees are so colorful. After leaving the Blue Ridge Parkway, we stopped at a roadside store and bought a bushel of golden delicious mountain apples.
I have been freezing apples, frying apples, drying apples, making apple cobbler and enjoying an apple a day. Love these golden delicious apples. Just might have to go back to the mountains and get another bushel. A day trip will do it.