Remembering to Take Medicine
Solutions
Share on ThriftyFunThis guide contains the following solutions. Have something to add? Please share your solution!
I have one of those 7 day vitamin/ herbal supplement containers, and every week I fill it up with the week's takings. When I put it into the kitchen cabinet, by the end of the week I managed to miss one or two day's worth. I guess the old saying "out of sight out of mind" fits this every week.
In order to remember, I glued a magnetic strip length wise on the bottom of the container. The magnetic box now sits on the side of the refrigerator and I see it when I enter the kitchen. This would work well for someone who needs to take daily medications and can't miss a dosage.
I used E-6000 glue; it works the best. I don't think super glue will hold or last very long.
By xintexas from San Antonio, TX
If you have to take medication every day or more, and don't always remember if you take it, get into the habit of writing on a calendar the time of day or night every time you take it. You might want a calendar just used for this.
By Jae from Kingston, NY
If you are taking a pill every day and have a hard time remembering whether you have taken it or not, you can write the day on the pill bottle label every day to keep track. This keeps the record with the bottle and saves you the bother of dealing with a day-of-the-week dispenser.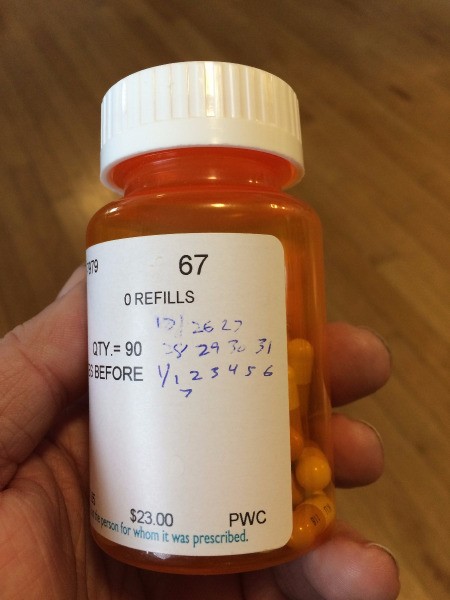 Read More...
I sort out most of my medicines into a weekly pill box. There is one that won't fit, it is a chewable tablet. I take it twice a day at no specific times. I have the bottle on the bathroom counter. I would sometimes forget if I took them or not. Now when I take the second dose for the day, I turn bottle upside down. If I am not sure I took it later in the day, I check the bottle. If it is upside down; yes I took it.
If it is right side up; no I didn't.
In the morning I turn the bottle rightside up after I take it. If I am not sure I took it, again, check the bottle. If it is still upside down; no I didn't take it. Right side up; yes I did take it. This works for me. Maybe you can adapt this routine to help you with your medicine.
By Linda from Bloomington, IL from Bloomington, IL
As emergency medical service professionals, we despise pill containers that hold the doses of all medications by day or time. When we ask the patient what their medications are, they hand us, or point out the pill pack containers. We can NOT identify the medications by that, nor can the hospital ER staff.
Read More...
December 11, 2004
1

found this helpful
When my husband needs medication refilled, he puts it on our computer desk right beside our phone where I will see it and remember to call it in and get it refilled for him. By Robin
Read More...
I set the recurring alarm on my cell phone. I may not hear it immediately when it goes off, but I'll see it sooner than later as I look at my phone quite often.
Read More...
October 31, 2004
0

found this helpful
Always forgetting if you remembered to take your pills at noon? Here's an easy and cheap way to keep track. Using an egg carton, number the cups with the hours of the day from rising to bedtime. Place the appropriate dosage of each pill in the correctly numbered cup. Viola! No more missed doses.
By Suzanne S.
Related Content