Ingredients
2 lbs. ground beef
1 can cream of mushroom soup
1 can cream of chicken soup
1 bag tater tots
1 bag shredded mozzarella cheese
Directions
Brown and season ground beef. In 9x13-inch casserole dish, layer tater tots ground beef then spread the soups over ground beef and top with mozzarella cheese. Bake in 425 degree F oven for at 30-40 minutes or until hot and bubbly. Let sit 5 minutes before serving.
Variations: Use ground turkey instead of ground beef; use different cream soups and cheddar cheese soup.
By Connie from Cotter, AR
April 22, 2016
0

found this helpful
Way cool and had this at a bronco party. Now I know how to make it. Thanks
Read More Comments
Ingredients:
1 lb. hamburger, browned
1/2 cup celery
1/2 cup sliced onion
1 can cream of celery soup
1 can cream of mushroom soup
1 can water
1 lb. Tater Tots
Directions:
Brown hamburger and put in casserole dish. Add celery and onions. Mix soups together and pour over. Cover with Tater Tots. Bake at 350 degrees F for 45 minutes.
By Robin from Washington, IA
March 31, 2011
0

found this helpful
I take the raw hamburger and just pat it like a crust in the 9x13 dish,,,add the onions, and on top of the onions I put two cans of green beans,,(drained of course) and then the soups, then on top of that I put cheese and layer the top with the tater tots and bake. We have been doing this for years ,,it's a great casserole and pretty too. Bake it until it bubbles and the taters are browned,,I usually put a foil over the top at first, then take off the foil for the last 20 minutes or so.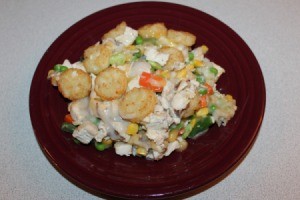 This is a classic casserole with chicken and creamy soups.
Ingredients:
1 pkg. tater tot disks (Crispy Crowns)
1 can of cream of mushroom soup
1 pkg. frozen mixed veggies
4 chicken breasts
1 can of cream of chicken soup
shredded cheese (cheddar is good)
Directions:
Chop up the chicken into bite sized pieces. You can brown it first to decrease the cook time or just throw it in there raw. I usually just put it in raw.
Layer the tater tot disks in the base of a 9x12 inch baking pan, to make a bottom crust. Then continue layering ingredients in the pan; cream of mushroom soup, frozen mixed veggies, chicken, cream of chicken soup. Add more soup if you're using a big casserole dish and need it. I add pepper because I'm crazy like that. Then cheese on the top. Cook at the standard casserole temp, good old reliable 350 degrees F for 45 minutes or so. You will want to cook it less if you brown the chicken first.
Tasty, hearty, and terrible for you - just like all good casseroles should be.
Source: This is an update of a recipe that my mother in law used to make for my husband as a child. He says mine is better - don't tell :)