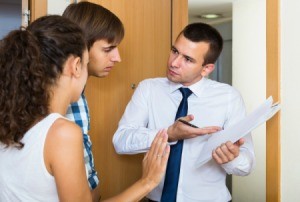 My husband and I signed a one year lease on a single-family dwelling in Sarasota, FL on 3/1/10. At the time of the lease signing, the landlord disclosed that he wanted to remain in possession of a section of the dwelling that is attached to the rear of the residence, with it's own entrance. He explained that he would be using it on Tuesdays and Thursdays between the hours of 9:00am to 2:00pm. (He is self-employed and uses the computer in the room at times.)
This is the exact wording in the lease contract in regard to this office: "Resident agrees for Owner to remain in possession and use of one room and one bathroom, located at the rear northwest corner of the Property and 3 storage sheds attached to exterior side walls of the house (Property), for owner's personal use, for the entire year."
The landlord has been on-property approximately 5 to 6 days per week. Some days he just wanders around picking weeds from his lawn, moving a stockpile of junk from one side of the patio to the other, etc., but basically just "hanging around" the property. When checking the chemicals in the screened-in pool, we have noticed that he is trying to look into our windows. Nearly every time we go outside to enjoy the patio and pool area the landlord suddenly appears out of nowhere.
It is evident to me that he thinks he has unlimited and unregulated access to the property. We have tried to negotiate with him through verbal discussion and emails. (Side note: he refuses to get a new mailing address for himself, therefore we must sort through the mail each day and put his mail in a metal box near the rear of the residence. We didn't know about this "provision" until after moving in.)
The situation is out of control. We are very frustrated and angry. He is interfering with our peaceful and uninterrupted enjoyment of this rental home. It seems the more we complain, the more he shows up on the property and he stays longer. He is becoming abusive in his emails to us when we write about our repair needs and repeated requests for privacy.
We do not have the money to be able to break our lease and move, but we are going out of our mind with his lack of consideration, his attitude that he is "above the law" and his "peeping tom" activities. We have considered filing a restraining order on him, but are unsure how that would affect the lease contract, etc. We have complained to the Florida Division of Consumer Services in the hope of gaining a mediator, but realistically this avenue may take a while, if it helps at all.
Does anyone have any advice? Has anyone experienced this same type of situation? If so, what did you do? I have read Florida's Renter's Rights and Rental Law, but cannot afford an attorney which would be the ultimate solution, I believe. All I know is that the landlord is disturbing the quiet and peaceful enjoyment of our rented residence. Thank you in advance.
By Janae from Sarasota, FL
Answers

Suntydt
Bronze Feedback Medal for All Time! 109 Feedbacks
September 23, 2010
0

found this helpful
File a restraining order against him. If he complains tell him you will gladly move to another place if he receeds the contrat you have with him. Also send him a certified letter stating he is no longer allowed to use your address for his personal use. Make sure you make a copy of the letter and have it notorized.
In the letter give him a date at which time the mail will be sent back to sender allowing him time to file a change of address with the post office. If he complains about this tell him it is not in the contract that the Federal address for the house is to be shared. If he does anything to your mail it is a Federal offence. You can confront him saying you will press charges through the US Postal service or he can negate your contract. his choice.
The best time to initiate and confront him with these matters is right after you pay your rent. Then if he says, "OK get out of here now" you can reply "OK give me my rent back for this month or we stay till the end of the month."
You aren't dealing with a nice situation and there is no nice way to end it (or at least it doesn't sound like it). Warning, when you move out take pictures of the place or better yet take a video camera of it after you have removed all your posessions and clean the place up. If you don't he might come back with a reduced security deposite (or none at all) saying you did such and such damage that had to be repaired and such and such damage that had to be fixed to make the place livable again. If you have pets be prepared to prove there were no fleas requiring an exterminator service.
As a matter of fact, after you have moved everything out, taken pictures/video, etc. If you have a lawyer friend or even your pastor (someone with authority in a court room if it comes down to that) ask them to look your place over and sign a document saying they have done just that. It's called CYOA. Cover Your Own A
Good luck.

September 24, 2010
1

found this helpful
Thank you Suntyd. Your input is very helpful. I really appreciate you taking the time to give us some sound advice.

September 25, 2010
0

found this helpful
I am a tenants rights advocate in Massachusetts. Most states have organizations that will help you for free learn what your rights are. Here is a link to housing rights information in Florida
www.hud.gov/.../tenantrights.cfm
and one for a housing rights handbook www.floridapirg.org/.../renters-rights-handbook
Some communities also have specific laws especially around foreclosures. Good luck.

Grandma J
Silver Feedback Medal for All Time! 270 Feedbacks
September 25, 2010
0

found this helpful
Contact the Att Generals office in your state. This is a freebie for information.
Another thing, go to the local postal office which delivers yours. Tell the postmaster you do not want HIS mail delivered to YOUR address/box. They need to tell him to get his own and make arrangements. All mail NOT for you is to be picked back up. He has to have a forward address done. What do the utility bills state when coming to your house? If he has access, then part of the monthly bill should be his.
Contact your local police department about the window peeking issues. They will guide you to the next steps.
He is making up rules as he goes along, breaking the rules to agreed to.
Could he be on the most wanted list trying to keep track of you? I would be so careful. Get the law/cops, etc involved.

pam munro
Gold Post Medal for All Time! 519 Posts
September 25, 2010
0

found this helpful
In gen'l real estate law, creating a nuisance is, I believe, a cause for breaking your lease. I have had landlord problems myself in the past & I have used the Nolo Press's book for renters (I think that's the title) successfully. You might also be able to go to your local authorities for advice. Is there a housing dept. as there is in a city? If local laws are being broken, you have cause to break the lease. I don't know how you can get the landlord from being a peeping tom, (although there are laws against that & you might be able to scare him by reminding him of it!) You can find the Nolo Press on the internet. Good luck.

susan
Silver Feedback Medal for All Time! 472 Feedbacks
September 26, 2010
0

found this helpful
Make an appointment to talk to an attorney, most will not charge for the initial conference. It will let you know of your legal rights and give you a direction to go on. Call your state's Attorney General's office: they have attorneys on hand to answer legal questions. Call your police department; they can tell you if anything can be filed against your landlord (peeping toms can be arrested). File a complaint with the better business bureau; let future renters know what kind of a landlord he is.
The first thing that I thought about, is you need to really check out your home. Are there any hidden cameras, mics, 2-way mirrors, etc. He's spending way too much time there for some reason. I'd start documenting things so when you take his butt to court, he loses. Have others take note about how much time he spends there; their word will stand up more in court than yours. Take pictures, tape him, document his comings and goings, make him as uncomfortable as he makes you. You have a legal right to privacy when renting.
Quit dealing with him directly, he is winning. He is not going to change until someone with authority makes him change.

September 26, 2010
0

found this helpful
Hopefully you can get out of the lease. In fact, you could ask him in a sincere way if he would prefer to have other tenants and would he mutually break the lease with you. Our County has a Landlord/Tenant Affairs Office. Check with your County govt for the same.
Talk to your postman, I agree the mail is a sore point. Just say not at this address, if not in the lease. The postal service will hold all the mail at the post office to be picked up by them.
I would not be too hard on this guy because often it is a misunderstanding. Does he have a personal attachment to the property, for instance, and just "misses" it? Perhaps he has issues with you as tenants that he cannot express verbally. Again, Landlord / Tenant Office could help.

September 27, 2010
0

found this helpful
I don't see why you couldn't break your lease, consult a lawyer. What surprises me is that any one would even sign a lease like this in the first place. Not trying to be ugly, but when you read it why would you even consider going ahead with this rental, that should have been a red flag.

October 4, 2010
0

found this helpful
Wow there is some great advice here. I originate in Canada and as such do not live by state laws. Having said this I know amendments to contracts require new contracts being drawn up. If the original contract stipulated and I quote as per your original post "Tuesdays and Thursdays between the hours of 9:00am to 2:00pm." Then anything beyond that must be renegotiated (contractual law) which would bring into question the peeping and general harassment being issued against you in libel form as in printable emails.

February 6, 2016
0

found this helpful
Are you filming him while he is wandering and spending great lengths of time and days on the property? Also film the peeping! I would film the peeping discreetly first before he realizes he's being taped, then began the other outdoor taping. You can feel free to let him see you do that and it may stop him all together! Documentation is everything! Be sure to get good shots of the area he is supposed to be confined to as well and his mail that's delivered to you. I would just mark his mail rufused, return to sender and send it all back from now on. That's what I do with my landlord's mail because he's had a year to change it!
Answer

this Question