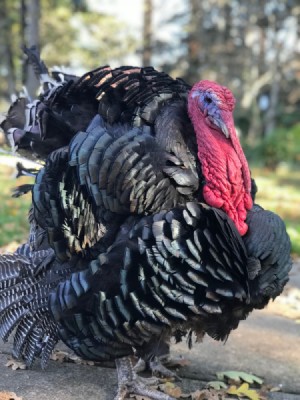 My dear friends, Lori and Michael, decided to raise a turkey for Thanksgiving this year. They have raised chickens for the last few years and have a large backyard. Although I'm pretty sure they will never raise a turkey again, the last 8 months have been quite an adventure.
They purchased the turkey chick from Wilco in March, for $16. He was a Broad Breasted Bronze, rather than the typical Broad Breasted White that are in grocery stores this time of year. Both types have been bred from the smaller wild turkeys to have more breast meat, but are generally unable to breed without human assistance.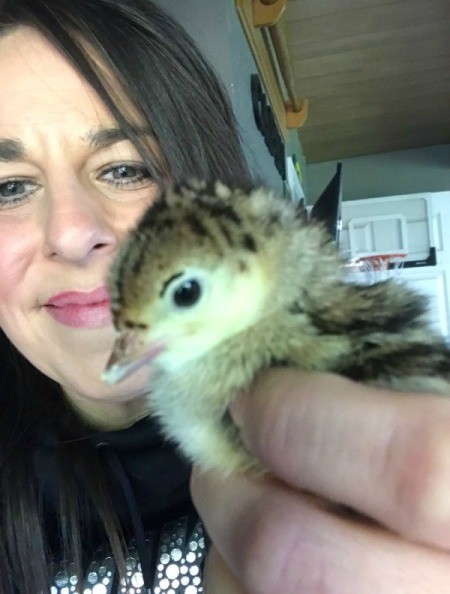 Turkey farmers can also choose heritage birds, like the Narraganset and Norfolk Black. These breeds retain characteristics of historic turkeys that have been bred out of the domestic broad breast varieties, especially the ability to be fertile without intervention. Because of this, they are generally grown free range on smaller family farms and are highly prized. They are reported to be richer in flavor, but have a higher proportion of lean dark meat because of the smaller breast size.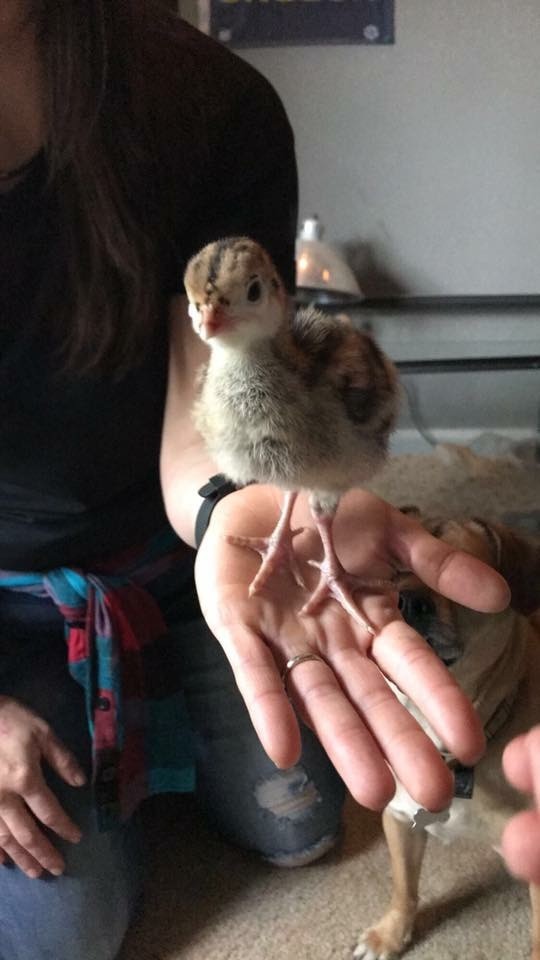 Lori and Michael tried not to name him, but it is hard to care for a baby creature for months without some affection creeping in. Many people called him Mr. Gobbles or Mr. Turkey, but Lori settled on Turkey Pie. She was usually home during the day so she became the mama. As he got older, he would watch her from the back step and keep her company when she was in the backyard. He had so much personality. When she would laugh, he would erupt in laughing gobbles and his snood would get long and luxurious. He grew into a beautiful bird, with all sorts of iridescent colors when in the sunlight.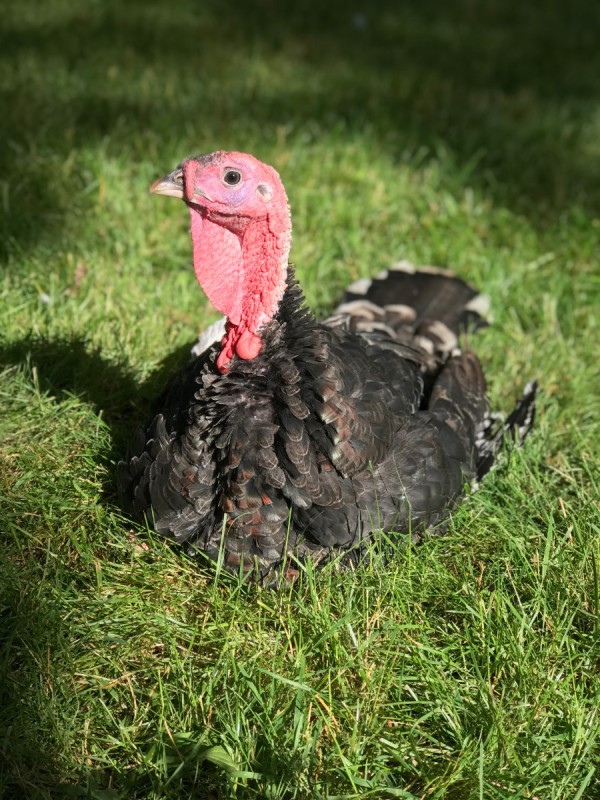 As the fall approached, Lori became increasingly aware of the fact that her Turkey Pie would not be around much longer. Many friends online would beg her to let him live, offering to buy her another turkey. She decided to have a big Thanksgiving dinner and invited all her family and many close friends, including me. Each guest is bringing a couple of sides so there will be plenty of food for all. She is planning on serving ham and prime rib too, as she doesn't expect to be able to eat a bite of Turkey Pie. The rest of her family will have no problem and most of us are looking forward to appreciating every bit of the turkey.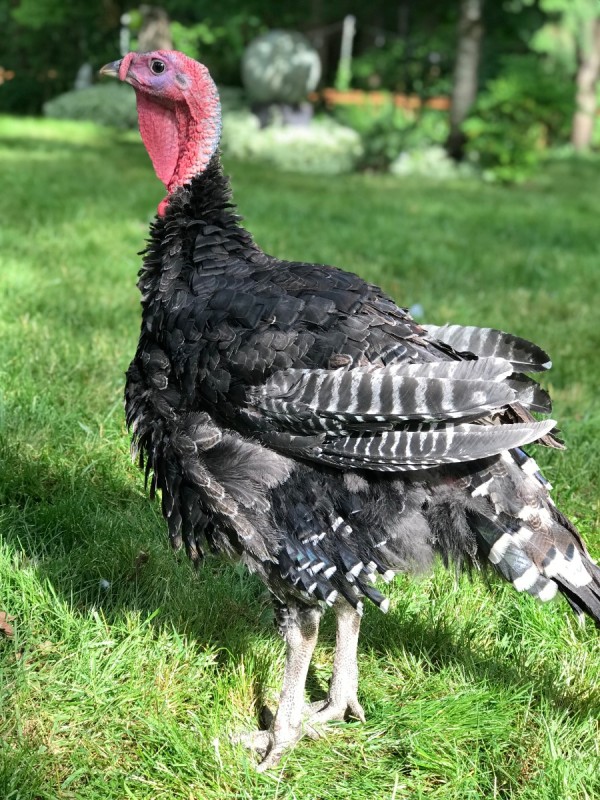 Living with a turkey is not all rainbows and sunshine. Like most birds, they poop a lot; on the back steps, all over the patio, and in the grass. He also became more aggressive and would bite the other family members if they came too close. Although we loved his gobble, it could be irritating to close neighbors or in a small space. He required several bags of feed during his lifespan and, at one point, he needed medication too. Lori would feed him turkey treats as well. All in all, it probably cost around $200 to raise him for Thanksgiving.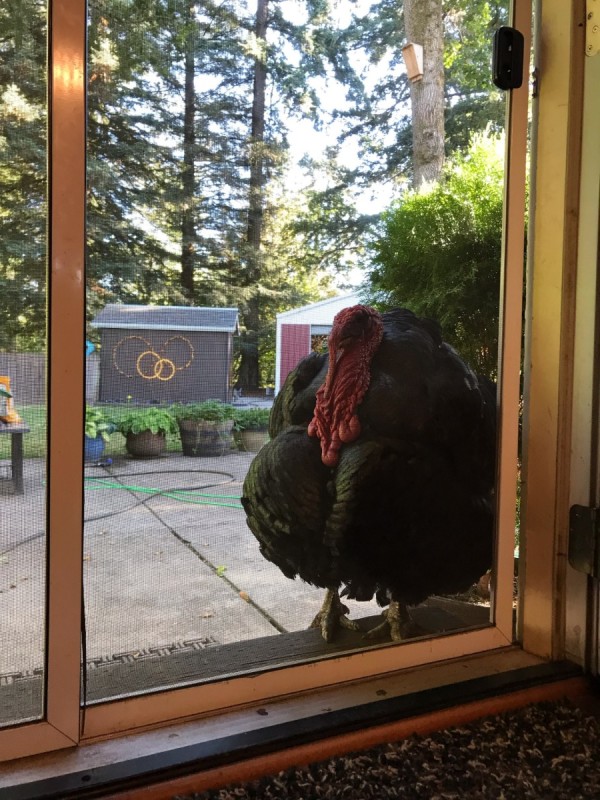 The Monday before Thanksgiving was butchering day. Although turkeys can live for 10 or more years, the meat is best after about 8 months. Lori found a farm that would butcher, defeather and clean a turkey carcass for only $20. Turkey Pie had to be locked in a dog cage for 24 hours to ensure he did not eat anything more. A friend and I accompanied her on the trip for moral support. She did great until Turkey Pie was unceremoniously hauled out of the cage and taken out back. The busy turkey butchers didn't really understand that she wanted a moment to say goodbye so it was more abrupt than we would have liked, but we got through it. A few hours later, we went back to pick him up. A little surreal to see a plastic wrapped package in place of the lively and majestic bird we had dropped off.
Turkey Pie was well grown indeed, a testament to the care he received over his life. He weighed 40 pounds, twice as big as the usual turkeys found at supermarkets. They do not have a pan big enough for him so we will be improvising with aluminum foil and baking sheets. We are all honored to be invited to share in this special meal. After all, every turkey starts as a little chick. His life was long and happy for a meat turkey, much better than the life on a factory farm.
Happy Thanksgiving!