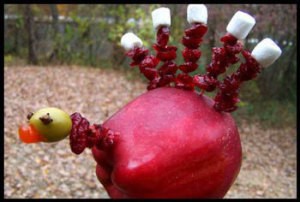 These are really cute turkeys made out of apples that kids can make for school or just eat as a snack. They also make adorable Holiday Table decorations. They can be made with either Fruit Loops or raisins. Variations: head can be a cut out that is glued on or a large marshmallow with raisin eyes and a candy corn stuck into it for a beak.
Ingredients:
1 apple
1/4 cup Fruit Loops cereal or raisins (if using Fruit Loops you will need a few raisins for the neck)
6-7 mini marshmallows
7-11 toothpicks
1 green olive
2 cloves
Directions:
To make the feathers: Take raisins or Fruit Loops and slide onto toothpicks about 3/4 the way down. Place a mini-marshmallow on the end. You will need 6 or 7 "feathers" depending on the size of your apple. Stick the "feathers" into the back of the apple.
To make the head: Slide raisins down toothpick and top with a green olive (head). Use cloves for eyes. If your olive has a pimiento you can pull it out the back of the olive and let it hang so that it looks like a turkey wattle.
Insert three toothpicks under the turkey so it can stand freely.
By Cheryl Lore from Asheville, NC
Read More

Comments