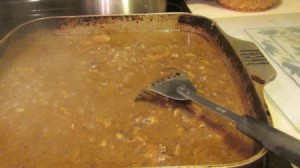 I learned how to make homemade gravy from my Mom & Grandmother, and their gravy is what made the "Dinner." Whatever meat you have roasted, braised, browned and has some residue or drippings can be a base for gravy.
Remove the cooked meat from the pan, and put onto a platter. Now you have a pan with drippings and bits of meat. Sometimes there may be no drippings, but just browned patches hardened on the pan. If this is so, you can put a few drops of olive oil in the pan, and turn a burner on med-high. Let the pan get very hot and scrape up some of the darkened areas. Do not let this burn. Have a 2 cups of hot water right at hand. Splash a bit of hot water onto the pan, let it sizzle, and keep stirring to loosen those drippings.
When you have a roasting pan with juices, drippings, and fat, leave the fat in there until the gravy is made, then you can skim it off.
To make the gravy have ready; a 2 cup measuring cup, 1 envelope of onion soup mix, 1 tsp. Gravy Master, and 1/4 cup of Wondra. Wondra is very fine sifted flour and wonderful product for making gravy, thickening soups or stews. If you don't have Wondra you can sift your flour.
In the measuring cup, put the Wondra, the onion soup mix, fill with very hot water. Using a small whisk mix very well to prevent any lumps in the gravy. When mixed, add the gravy master and set aside. Have on hand a 1/2 cup of hot water.
Turn the burner on med-high under the roasting pan, it will begin to sizzle. Start scraping up the drippings and stir constantly. When your drippings start getting very hot (you don't want them to burn), toss in a 1/2 cup of water. It will steam up, and loosen any stuck-on pieces.
When this comes to a boil, pour slowly the 2 cups of your gravy mix, stirring constantly. If it turns out too thick, just add whatever water you need a little at a time. If you think it needs to be thicker, just take a tablespoon or 2 of Wondra and mix with a 1/4 cup of hot water. Stir this in. When your gravy is just right, lower it to a slow simmer, cover and stir occasionally.
If you want anything like mushrooms, onions, peppers etc. in your gravy, the best time to do that is when you are first sizzling the oils and drippings. I have them ready, all cut up in bowls to go in. It makes things easier. You can't leave gravy alone for a minute or it will burn.