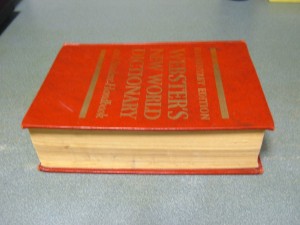 After sitting on the shelf for many years, this 1969 dictionary has come in handy. I don't want to get rid of it and I've found another use for it.
In physical therapy, after having hip replacement surgery, I learned some step exercises and stretches that build up my muscles. This book is working great for a low step and it takes up very little space. For protection, I wrapped it in thick paper bag paper and put some duct tape around it to make it sturdy. When using it, I put a mat underneath to keep it from sliding.
The kitchen is a convenient place for me to do my exercises as I can use the counter top for balance. While I'm waiting for food to cook, I can exercise, stretch my muscles and burn some calories as well. It has helped me a lot.
When I get in good shape, I may invest in an adjustable workout aerobic step platform. There are some great videos on the internet that look like fun.