It's June and that means the apple trees are fruiting. To improve the quality of fruit this season and increase your flowering next season, now is the time to thin the apple tree. Experts recommend waiting for June Drop, when the smaller immature fruit fall off to make room. This will make them very easy to remove by hand or by a careful shake.
As you work way up each branch, look at the clusters of budding fruit. Usually one apple will stick out as the largest. Remove the smaller apples around it, leaving just one or two. Also, look for any diseased or insect eaten apples and remove them right away.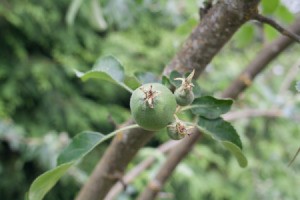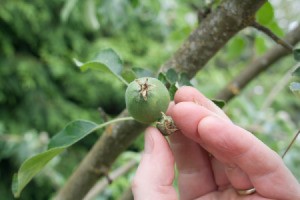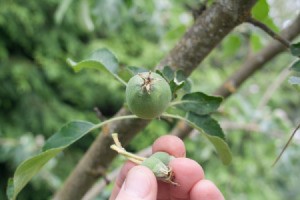 To make the job a little easier, give each branch a little shake before thinning. You will be surprised how many fall off easily. Don't shake the branch too hard though, you wouldn't want to bruise the fruit you are trying to keep.
The two of us were able to thin the entire tree in about an hour, one on a ladder and the other on the ground. We also took the time to inspect any health or insect issues with the tree. We are looking forward to a great apple harvest this year.
By Jess from Hillsboro, OR