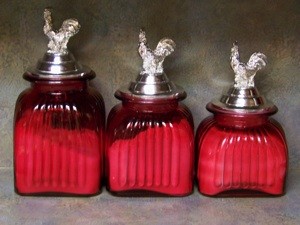 Is there such thing as clear red paint? I just purchased a red glass kitchen canister set and love them! I was just informed that these red sets contain high levels of lead. My question is, if I buy another set identical to this; only clear, if there is a red clear paint I could safely use to paint the clear canisters red? Or better yet, does anyone know where I can find a red glass canister set not made in China that is under $50? Thanks so much!
Victoria from Greenwood, AR
Answers

January 30, 2009
0

found this helpful
Victoria, I would check at Hobby Lobby. I got paint there to repaint pyrex mixing bowls last year. They might have what your looking for. J.B.

January 30, 2009
0

found this helpful
Who told you they're full of lead? If the source is not 100% reliable, you can buy little lead testing kits at the hardware store.
As for the paint, you should be able to buy glass staining paint at a good craft store. Just ask if you don't see what you want. They are lovely canisters.

Cyinda
Bronze Post Medal for All Time! 213 Posts
January 30, 2009
0

found this helpful
I pretty sure that whoever told you this is mistaken! ...& if your canisters were full of anything it would most likely be cadmium, not lead. If you want to worry about lead, then don't drink or eat from lead crystal (the fancy glass) or any imported ceramics...
Now IF these canisters were made of PAINTED glass, then RARELY they DO have heavy metals in the paint like cadmium... But if your glass is colored ALL THE WAY THROUGH & not just painted on, don't worry... If you are worried about lead or cadmium then don't store anything "acidic" in them like coffee or lemon or orange peals. If you are still worried, you can always use zip lock bags inside them or line them with aluminum foil.
OR you can coat the inside with several coats of clear acrylic medium made for glass. (it's acrylic paint with no coloring added). Before you paint them with acrylic paint wipe them down with rubbing alcohol. The type of paint you should use is a glass paint. I like "Glossies" made by Liquitex. It's sold where they sell artists paints (not hobby paints) at any craft store. Buy clear, not colored or buy clear glass then paint the outside with red glass paint... But I don't think glass paint is actually "food safe"... It's meant for using on the outside of bowls & glasses, not right next to food.
By DearWebby (Guest Post)
January 30, 2009
0

found this helpful
Whoever mentioned lead in connection with red glass is wrong. Even if there WAS lead in the glass, it is bound in the glass stronger than copper is bound in brass.
For translucent red paint look for Candy-Apple paint at motorcycle aftermarket shops. It also looks gorgeous on shiny tin or aluminum.
For glass you can also use fake stained glass paints, but they are not car wash and dish-washer safe like Candy-Apple paints, that can handle road salt and rain at high speed.
Have FUN!
DearWebby

January 31, 2009
0

found this helpful
First off, I think if you have just purchased these, they would be lead free. With restrictions these days, I would doubt the manufacturer would be allowed to use lead paint.
And they are beautiful! What a wonderful set!
By denise w (Guest Post)
February 3, 2009
0

found this helpful
It's called transparent enamel paint and I agree no lead in the ones you have.

Grandma J
Silver Feedback Medal for All Time! 270 Feedbacks
February 3, 2009
0

found this helpful
For Red paint, check an art supply store. They have paint for every medium.

February 3, 2009
0

found this helpful
Are you sure it is the actual red cannister that contains the lead & not the silver colored roosters on top? (Just a thought as they look like some type of metal or metallic plastic, which often does contain lead).
Even if the set was recently purchased, there could be lead-violation items remaining for sale on store shelves. Buyer Be Aware.
Read More

Answers