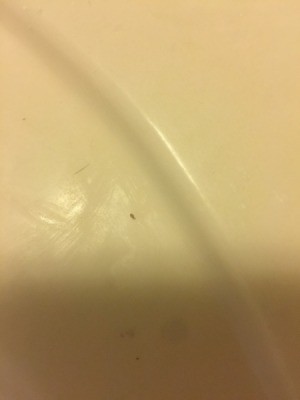 I started having the feeling like something crawling on me three months ago and started getting pinprick bites. My doctor can't identify what type of issue I have. The exterminator said there are no bed bugs. Even though I threw out 90% of my clothes and my furniture including the bed they are in my new clothes and everywhere.
I vacuum everyday, wash everyday, and soak my clothes in ammonia, but they come back. I sprayed vinegar and water mix everywhere in my house and felt normal for a few hours. But they came back. They must be in different shapes depending on their stage of life. I see black and also tiny white particles everywhere. I can feel them from my laptop and iPhone.
After I started using coal soap and sulfur shampoo I feel a little relief. I covered my body with calamine lotion and spray DEET before go to bed. So I don't get big bites during the night, but feel pinprick bites instead. Sometimes I get small paper cut looking things on my hands. The worst is at my work. I can't clean crazy like at my house and I have a very tall ceiling. They are living in the ceiling and fall on me as soon as walk in. I get them all over me by the end of day. Because I cleaned the floor so well, now they are targeting my hair and scalp. I spray 91% alcohol on my scalp, but they keep coming back. I can see glitter looking particles on my hands and clothes. They are maybe eggs. I thought they are maybe lice, but the CDC said body lice are easy to eradicate by washing clothes in hot water and drying them in high heat. Yes, I have done all that plus cleaning everyday, but it is not working. I'm a very clean person and am wearing clean clothes everyday. Please someone help me.