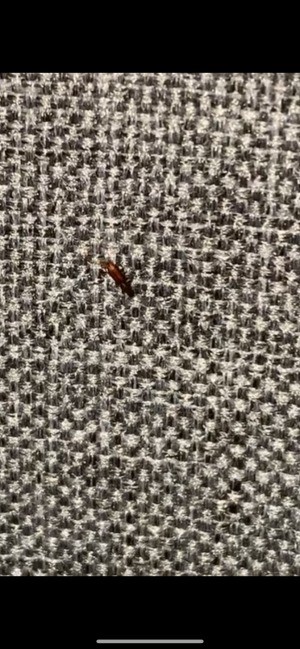 I found this bug on my daybed headboard and on my mattress. I have not gotten bit but I do not know what it is. Can someone please help to get rid of?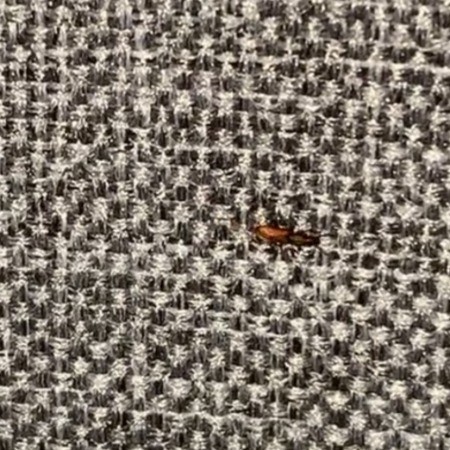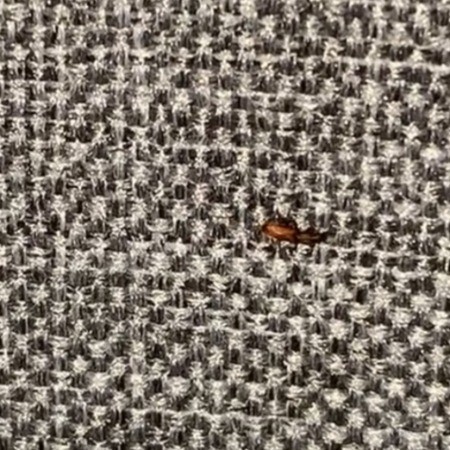 Answers

Judy
Gold Post Medal for All Time! 677 Posts
June 2, 2021
0

found this helpful
Best Answer
It looks like a beetle to me. If you have bedbugs, you will have bite masks and bloodstains on your sheets.

gggd
Silver Answer Medal for All Time! 425 Answers
June 2, 2021
0

found this helpful
Best Answer
If the head board is wooden, it could be powder post beetles. Can you find any tiny pin-size holes or very fine sawdust in the wood? Powder Post Beetles drill very small diameter holes into wooden things and then lay their eggs inside.
You will need to use an insecticide to kill them.
Answer

this Question

What the hell are these? There's little black ones and grey/tan bugs and they kind of hop?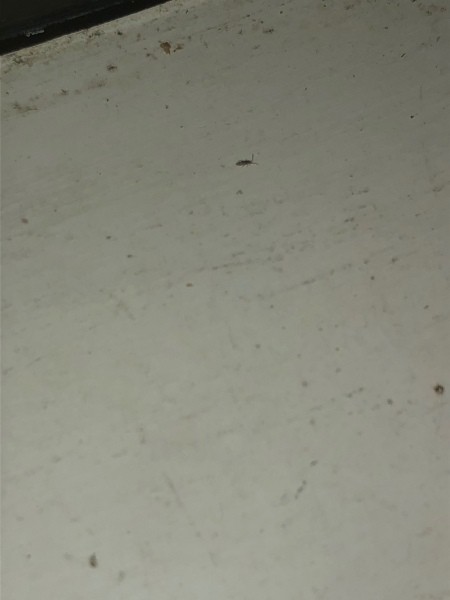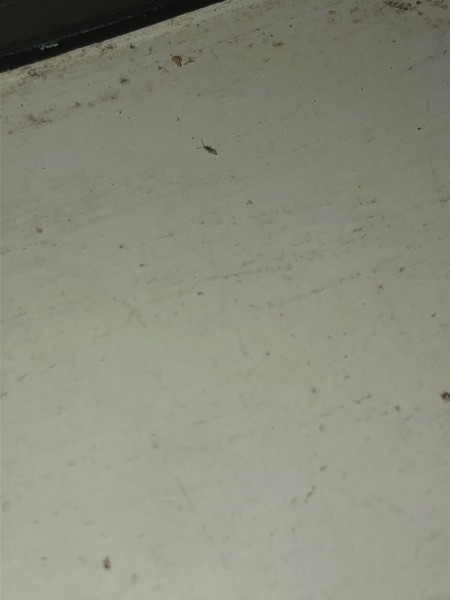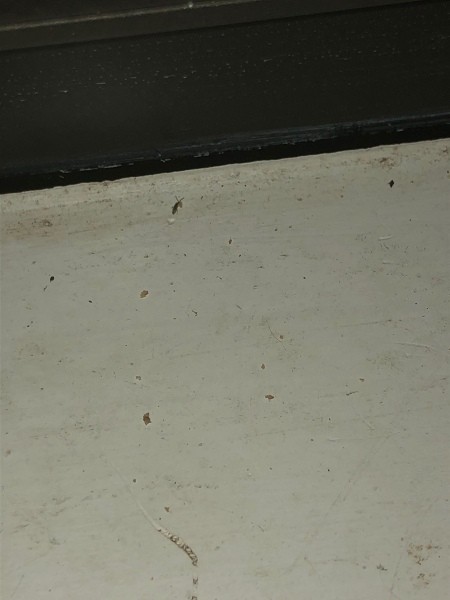 Answers

Iceskater
Silver Answer Medal for All Time! 320 Answers
June 9, 2021
0

found this helpful
Best Answer
Could be springtails. They feed on decaying organic matter such as leaves and algae, and are attracted to humidity and moisture, so check for leaky pipes and slow drains too. To prevent them from entering your home you'll need to caulk or otherwise seal all openings and cracks on windows and doors.
(Pesticides usually are not effective but you could try diatomaceous earth.)

June 10, 2021
0

found this helpful
Best Answer
These could be Springtails, they often get mistaken for looking like fleas. These insects are very tiny and they do jump and hop around. On how to be rid of them - www.domyown.com/how-to-get-rid-of-springtails-a-274...
Answer

this Question

These little tiny bugs are on my windowsills around the house! I just noticed them yesterday and have already called an exterminator but just curious as to what these are, why they are here and if they are harmless!
Thanks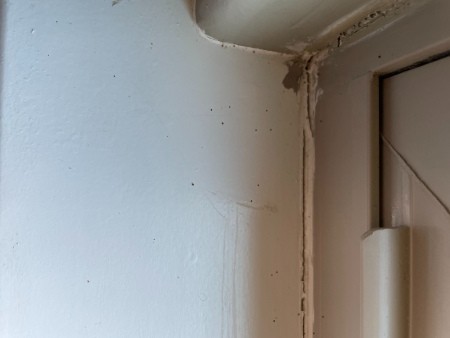 (Yes they are moving so they are not termite poop)
Answers

DianaHM
Silver Answer Medal for All Time! 440 Answers
April 14, 2021
1

found this helpful
Best Answer
These tiny bugs look like carpet beetles www.whatsthatbug.com/.../ The most common of these is the furniture carpet beetle (Anthrenus flavipes). This is a small beetle - a little larger than the head of a pin. The adults are most often seen on walls moving very slowly. They are active in summer and relatively inactive in the winter. This explains why you suddenly found them. It got warmer and they became active.
Carpet beetles can feed on a wide variety of things, from wool, leather and other animal products to noodles and flour, meal and other stored food and plant products. This why they can infest almost any part of a house.
The best control strategy is to do a thorough vacuuming of the suspected sites. Then do a thorough cleaning, which includes looking for all the material that could be infested. Make sure exterior doors close securely.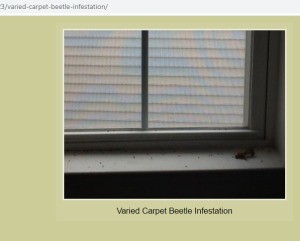 Answer

this Question

I saw these bugs in my apartment, two on my bathroom counter and one in the kitchen. I am terrified of bugs. Does anyone know what the big one is and the little small ones?
Please help, I'm going crazy.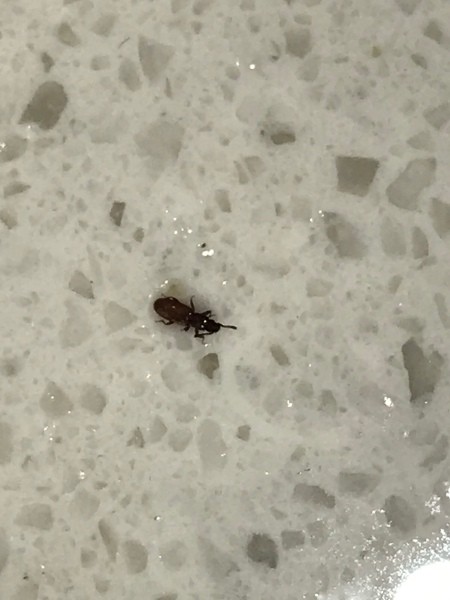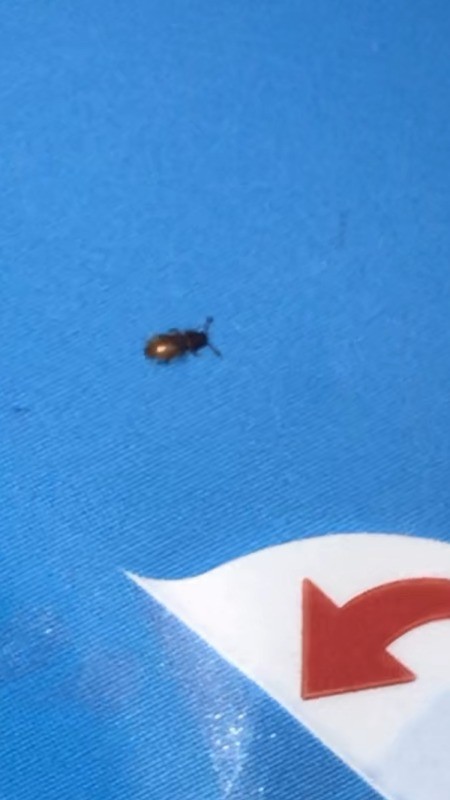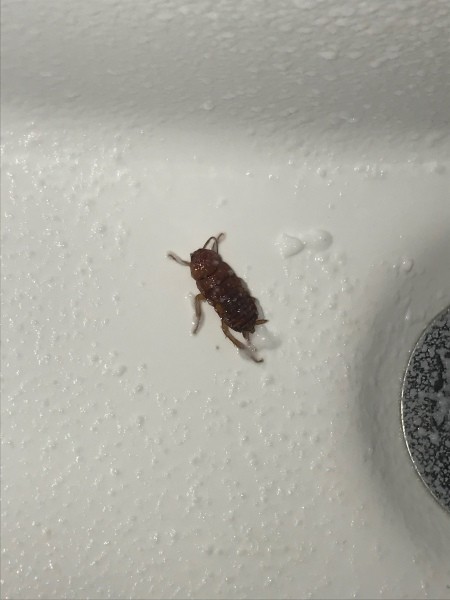 Answers

DianaHM
Silver Answer Medal for All Time! 440 Answers
September 29, 2021
0

found this helpful
Best Answer
In the first two photos you have a Sawtoothed Grain Beetles. They are a species of stored product pest. Sawtoothed Grain Beetles feed on and destroy dry goods, grains, etc. They usually get into goods when they are in production or on their way to stores or homes.
Throw away infested food, clean the empty shelves with a vacuum.
Store all new food products in tightly sealed containers.
Inspection and cleaning are key steps in eliminating sawtoothed grain beetles. Insecticide application is the final step.
In the second photo you have a Nymph Cockroach (antennae bent). bugguide.net/.../1254067 Nymphs hatch and undergo several molts, growing a little each time they shed their skins.
Use sticky traps.
Remove food spills quickly and keep your sink free of dirty dishes.
Store food in sealed, air-tight containers.
Remove garbage regularly and tie the bag tightly.
Make natural cockroach bait: mix 3 parts boric acid with 1 part powdered sugar (the sugar lures the roaches, while the boric acid kills them). Sprinkle it. Boric acid isnt toxic to people or pets, but it can be irritating so keep it away from counters and places where little fingers and noses can reach.
Answer

this Question

I have very very small almost un-noticeable sized black and white jumping, biting insects (or at least I am assuming that's their species) in my house. They originated from my mattress somehow a year ago. I got a bedbug sheet and had someone come in after that and everything went back to normal.
My parents think I am crazy to be bringing it up again since it's been about a year! But for the last few days, since I changed my sheets and took off the bedbug sheet also by accident, they have come out to play and infest my entire household once again. I can't even sleep well because they are non stop making me itch, hurt from bites, etc. Anyone, can you help me identify these bugs(?) and the way I can kill them once and for all? Please email me through this site, thank you!
By Julia Callahan from Newtown, PA
Answers

January 20, 2012
0

found this helpful
Sounds like you might have bed bugs.
Read More

Answers

I have found these hanging out on our floor trim, I think I can pinpoint a few places where they live inside the floor trim. There are also pale colored larva. I thought they were bed bugs because I have gotten bites, but I don't think they look like bed bugs me they look more like beetles of some kind.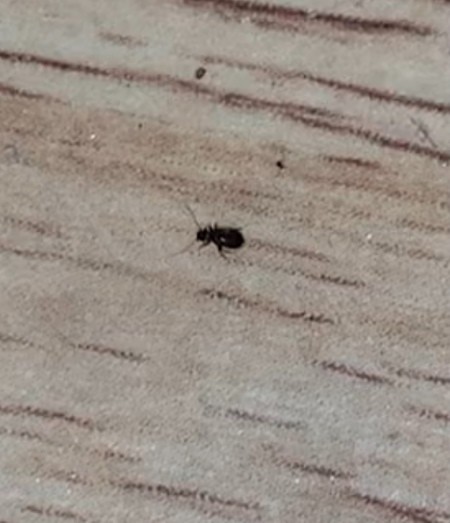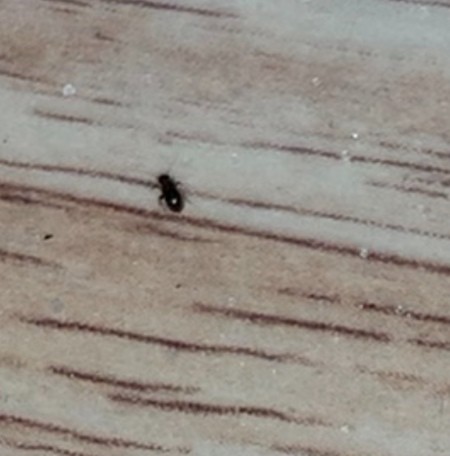 Answers

gggd
Silver Answer Medal for All Time! 425 Answers
September 13, 2021
0

found this helpful
Best Answer
These are NOT Bedbugs. They ARE some type of Beetle, but your photos are too blurry to distinguish what variety. Also, when taking a photo of any kind of insect, you should always put a ruler or a coin, etc., near the insect for size comparison. From your photo, this beetle could be 1/16th inch long or 1 1/2 inches long....there is nothing to determine size.
If the larva are found right near the trim board, these beetles could be a type of Wood Boring Beetle. If I were you, I would try to catch both a beetle and the larva - use a piece of CLEAR tape to catch them, and take to a hardware store to see if they can identify what variety. They will also know what kind of insecticide to use and/or a reliable exterminator in your area. Good luck, and let us know the outcome.
Answer

this Question