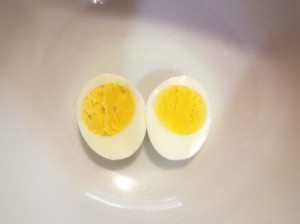 Here are a couple of quick tips for boiling eggs. I wont try to entertain you with cute (?) verbiage. As Joe Friday says, 'Just the facts, Ma'am'.
I want my eggs firm enough for slicing but not really hard boiled. I've forgotten them a couple of times and cooked them too long. The 2-3 times I did, showed me some very helpful things.
I found there is a direct relationship between how long an egg is boiled and how easily it can be peeled, and whether there is a green cast to the outer part of the yolk.
When boiled just until the eggs are firm, they are more easily peeled and do not have a green cast to the yolk. Simple as that.
An added note: I've posted a lot of tips on peeling boiled eggs. None of them are worth a flying flip if you overcook the eggs. That membrane becomes glued to the egg white.