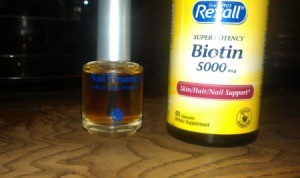 I had really badly bitten nails, they were horrible! If you want really strong long gorgeous nails, here's my secret. First, stop all nail bitting, nail polish removers and dark colored nail polish. Try more nude colors, they won't stain nails or have harsh ingredients.
Now that's done, you are ready. This is what I do for my nails; Biotin and a nail treatment top coat with a garlic base. I take 5000 mcg of biotin daily. My brand is cheap Rexall, $5.00 at Dollar General and my garlic base top coat (G1Nail treatment) is only $1.25 at a beauty supply store. I also soak my nails in water with salt and any vegetable oil I have on hand. I soak them at least twice a day, soaking for 15 minutes day and night. That's only 30 minutes out of your day. It's worth it, your nails need to refresh daily. However, I recommend olive oil for a more better result.
I massage my nails with a vibrating tool, anything that vibrates. I do this at any time of the day. I bought one from Walgreens. It's use is for stress but I just hold it when my hands are free. I find that it also makes my hair grow. True Story LBVS! The vibrations helps circulate the blood in your nails and hands. Although you must continue to massage a oil base into the cuticles and use a moisturizer to keep nails nourished.
Drink plenty of water as well. The biotin intake will need more water intake daily, around 64 oz. Water is also a good source for growing anything! I hope this helps. My nails have been growing for two weeks now with my own system and it really works. Try and enjoy the beautiful nails God wants you to have. God Bless everyone (: