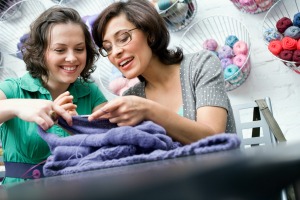 This is a tip for all crafters. I find readers are getting confused with the word material! Material is a word for all the stuff you need for your project, like fabric, paper wood, metal, glass, and tin. So when asked where to find cheap material, they mean: fabric, wood, paper, glue, containers, glass, and cans.
Supplies usually means things you use over and over, like tools, tape, glue, mixing bowl, or measuring spoons. But some directions lump it all under materials, then list all that you need. So material is not just fabric. Thanks, it's easier if everyone is on the right page, hope that helps, clear up the confusion.
Clara from Ephrata, WA
Read More

Comments

I am looking for sewing ideas. I need help making purses, pillows, and things for the home. I would also like to make recycled bags for grocery shopping. I am a beginning sewer. I have made rice bags and a few pillows. Any help would be greatly appreciated.
Crystal from Zebulon, NC
Answers

March 6, 2009
0

found this helpful
Go to www.sewmamasew.com and click on the "blog". They have all kinds oftutorials, patterns, tips, etc. for the beginning seamstress as well as the more experienced sewer.

March 6, 2009
0

found this helpful
A good site for beginners is www.about.com. They have many different categories, so just search for sewing, etc. You should be able to find instructions there.

March 7, 2009
0

found this helpful
There is a wonderful web site with all kinds of tutorials on www.craftster.com. It's free, or you can pay to join to participate in swaps and stuff.

March 7, 2009
0

found this helpful
Try Tipnut.com They have easy-to-do sewing patterns. And they have alot of other good things too.

March 7, 2009
0

found this helpful
Take a long look at a shopping bag in the store and you'll figure it out.

March 8, 2009
0

found this helpful
You could also check with your local library and see if they offer classes. Our library has quilting classes and other "craft" classes.

March 12, 2009
0

found this helpful
Since I tried to sew on my new sewing machine I have had so much trouble with the thread clumping on the bottom of the material that I got discouraged in trying to do this.
I have tried adjusting the tension on the top part and still no luck.
I am so happy that you are going to sew.
It's really worth the effort.

November 15, 2013
0

found this helpful
I was having the same problem with clumping thread on the bottom of my material as I sewed. It was a new machine. I took it in and paid dearly for servicing. They said they didn't have a problem with it after they serviced it.
I brought it home and it still did. I took it to a different sewing center and the lady told me 90% of these problem. My new machine was doing the same thing - clumping on the back side of the material I was sewing. I have it servms are "a threading problem."
I really doubted her, as I have sewn for a long time, but this was a new machine. I watched her carefully as she demonstrated. I said "I do it right." She told me I wasn't pulling the thread tight enough for it to "click" (before threading the needle.) It has to go into a groove, that you can't see because it is inside the sealed machine head. That is where the tension is applied. Sure enough, I have had no problems since them. She said she sees this all the time. Hope it works for you.
Answer

this Question

I am new to beading jewelry and would love any tips and advice you guys can give me. I've been looking for a starter kit, a good place to buy beads and some good sites or books for references. Any suggestions?
Thanks in advance!
By Stephanie from NJ
Answers

August 3, 2010
0

found this helpful
Michael's is a great place to find beads and equipment. Also Fire Mountain gems and Beads will send you a free catalog if you go to their website. I sometimes use beads for scrapbooking.

August 4, 2010
0

found this helpful
Fire Mountain Gems is great! I like their site because they have a large variety of things to offer. They also have patterns and project ideas. Another tip would be (if you use Ebay) to search for jewelry lots. I've purchased a few and have gotten some really neat things.
What I don't use is donated to a local girls beading club. Places like Jo Ann Fabrics and Michaels have beading supply sales at least once a month. Happy beading! :)

August 4, 2010
0

found this helpful
The website for Fire Mountain Gems is www.firemountaingems.com/. They have a ton of information and supplies. If you go to The Gallery of Design section there are lots and lots of jewelry designs and instructions on how to make them. They also have instructional videos, etc. Another good site to purchase (cheap) beads is www.dollarbead.com. They sell good quality beads from overstock and clearance stock. I bought some very nice 8mm lampwork beads with a pink rose design. I paid $1.00 per strand of 24 beads. I was quite pleased with my bargain. Good luck.
Margaret from Denton, Texas

August 4, 2010
0

found this helpful
You can also find a wealth of information in the library. There you can get valuable information and not spend any money.
Good luck and show us what you make, ok?

Marty Dick
Bronze Post Medal for All Time! 169 Posts
September 13, 2010
0

found this helpful
I don't do beads but it seems to me that old jewelry from garage sales and thrift stores could be repurposed.

January 26, 2011
0

found this helpful
Hi, I just found this web site, and noticed this post is quite old, but hopefully it will get to the right person. I just started beading as well, I watched a ton of Youtube videos to learn the craft. My sister got a beautiful beaded watch (chunky beads) from her Sister in law for Christmas, after examining the watch, I knew I could make them, with a little know how from the experts.
I have since made 5 watch bands.
I buy discounted jewelery whenever I see it. I just recently bought a braided bead bracelet from Walmart for $2.00, there is probably $10.00 worth of beads on it. Yes garage sales and second hand stores is another place to find great bargains.
Answer

this Question