I am a middle-aged woman. Does anyone have tricks to camophlage thinning hair on the top (crown) and front hairline? I know this can be a hereditary condition, but has anyone ever heard of it being caused by wearing a baseball cap a lot? In the summer I've been wearing a cap to ward off the sun and in the winter to keep warm, even in the house. It just got to where I would feel so cozy with the hat on, I just left it on. I have tried Toppik, a fiber-type substance you shake on the scalp and hair and it blends the scalp and hair. It works well, but can be messy. Making the hair itself look thicker is no problem.
There are shampoos and products to add volume that work really well. It's when you can see the scalp in such contrast to the hair. I was wondering about using a self-tanner on the scalp where the hair is thin. Do you think it could work? Any other tricks? My hair is brown - would blond hi-lights, especially in the thin areas, disract the eye and give the illusion of hair? Please help with your ideas or experience.

Thanks,

Clevergirl from Westchester, NY

Answers:
Tips for Hiding Thinning Hair
I have heard that hats cause baldness in men and women, but I wonder if that's just a myth. I like Sauve Professionals Thick and Full shampoo and conditioner. I also spray my hair with hairspray before I style. It adds some volume. I wouldn't suggest self tanner unless you do it all over (at least what is visible when you are clothed). My hair is black so I add highlights of bright red and orange-blonde to detract from how thin it is. Maybe go to a salon to lighten or highlight your hair. Or try a beauty college to save cash. If your hair is already fine, perhaps weak, you don't want to risk it breaking off... Or check out local wig shops. You can get falls of hair that you attach with bobby pins or special glue. You might even consider having a weave put in. If nothing else, dress well, smile, and have confidence. That can go along way:) (06/01/2006)

By thriftyboo
Tips for Hiding Thinning Hair
Hi Clevergirl,
I am a hairstylist as well as a salon owner and I will tell you what I know. Firstly, the hat thing. There has been some research that has shown that continuous wearing of ballcaps and such where the scalp becomes sweaty and the sweat is trapped and clogging the hair follicles to the point that it is killing the hairstrand within. So for guys that wear them day in and day out? It may be a "contributing factor".
As for trying to minimize the noticability of yours....you want to make the contrast between your scalp and your hair less. So yes, blonde hilites will help. I would maybe even go for a bit lighter brown all over if you are up for trying that and then blonde hilights in the thinner areas. Just be gentle with the hair don't want to damage the hair that you have.

Not sure if I would try the self tanner or not??? I would be worried about clogging up the hair follicles I guess.
(06/02/2006)

Tips for Hiding Thinning Hair
I think baldness or thinning hair is hereditary. I wouldn't color my hair if I were you. My sister colors her hair and keeps it permed and she is the only one in our family of four girls who has a bald spot. I would however, continue to wear some type of hat when I went outside to prevent skin cancer on the top of your head. I think the length of the hair is what is most important when it comes to covering up baldness. Shorter hair looks like more hair. Also, it can be blown dry to cover the places where there isn't much hair. I wouldn't worry to much about it, but rather learn to love the body you have. WE all have things about ourselves that we don't like.
Warm wishes, (06/02/2006)

By Carol in PA
Tips for Hiding Thinning Hair
Have you tried the vitamin Biotin? First magazine had an article about it this year. I have been taking it for four months and my hairdresser has been commenting on how thick my hair is getting. (06/02/2006)

By Meg
Tips for Hiding Thinning Hair
Here are my tips (sorry if they duplicate any above):

Frequent shampooing if your hair tends to be oily (use baby shampoo if you are worried). Also, I don't use the blow dryer too often (except when going out). Instead I run my hands through my hair as it dries and then back brush it. I bend over and brush the hair forward. This makes the hair look fuller. A good haircut is very important. Keep your hair no longer than shoulder length, and your hair layered. A mild body wave (I have heard) can be very helpful.
Finally, good quality, well-matched hairpieces (the less hair on them the better ... as it will look more natural). Some have combs for attachment and then you can use bobby pins to secure them. Try Paula Young if budget is a problem. Ask them to mail you swatches before you buy so you can compare against your hair. Paula Young is online. I am not advertising them, but have used them successfully and am very happy with results. They even have specific pieces for crown and side coverage.

Good luck.
(06/04/2006)

By Anjeena
Tips for Hiding Thinning Hair
Hypothyroidism is a common cause of thinning hair in women. Do you also have any of the following symptoms: dry skin, feeling inappropriately cold, depression, high cholesterol, high or low blood pressure, joint pains?

Ask your doc to check TSH and Free T4 levels. If your TSH is over 3 with symptoms, you should be treated.

Visit About Thyroid for more info. http://thyroid.about.com/

Low ferritin (storage iron) is another cause of hair loss and many of the above symptoms. A serum ferritin test will identify anemia before it shows up on a CBC.
(06/04/2006)

By txthyroid
Tips for Hiding Thinning Hair
My sister, who had beautiful hair, wore wigs for about 20 years. It left her with several bald spots. Her hair has recovered after several years of ditching the wigs. Hair is alive and needs to breathe. The hat is not helping your condition.

Best of luck! (06/05/2006)

By Sheri darling
Tips for Hiding Thinning Hair
I am a 3 time cancer survivor and all the chemo has left me with very thin hair. Being a hairdresser, I really don't like it much. Then I read the following about thin hair and attitude and I feel better!

There once was a woman who woke up one morning, looked in the mirror, and noticed she had only three hairs on her head. "Well," she said, "I think I'll braid my hair today." So she did and she had a wonderful day.
The next day she woke up, looked in the mirror and saw that she had only two hairs on her head. "H-M-M, " she said, "I think I'll part my hair down the middle today." So she did and she had a grand day.

The next day she woke up, looked in the mirror and noticed that she had only one hair on her head. "Well," she said, "Today I'm going to wear my hair in a pony tail." So she did and she had a fun, fun day.

The next day she woke up, looked in the mirror and noticed that there wasn't a single hair on her head. "YEAH!" she exclaimed, "I don't have to fix my hair today!

Attitude is everything.
(06/06/2006)

By prism
Tips for Hiding Thinning Hair
I have always had thin hair and now it is getting thinner. I wear a simple brimed hat almost all the year during the day when I leave the home.. In the winter it is wool or cloth and in the summer it is a lightweight material. (The brim is great for keeping wrinkles to a minimum.) I decorate them with scarves, belts and jewelry.In the evenings when I go out I wear no design baseball hats. I pull my hair in a tiny ponytail at the back of my head, pull the pony tail out the hole and put a big bow type barrette on my hair above the ponytail at the hole in the back of the cap. I buy all these items at thrift stores . No one knows how little hair I have and I get lots of compliments on my hats. (06/08/2006)

By thrifty 50
Tips for Hiding Thinning Hair
I have been trying to camouflage thinning hair for years. When I was young my hair was extremely thick so when it started thinning, it was very difficult for me to except. I have a lot of medical problems and all doctors have told me that the thinning is caused by my conditions plus some of the meds that I have to take. I am also a cosmetologist which made it even more devastating. My hair is naturally dark blonde. I lightened my hair to a light beige blone and wore it that way for years, but as it got thinner, I just was not happy. My youngest daughter just got married on March 3rd and I was so upset with my hair that I consulted another cosmetologist and she said that I actually was wearing it too light. She went to a darker blonde and then highlighted it and that is looking much better. Also, the haircut is extremely important! You want it short....but not too short. I use a volume shampoo and then styling it, I blow it dry and then use called SUDZZ FX Lemonade Dreamzz Texture Creme and "crunch it" to give the illusion of thicker hair. I have to say, I was very happy with the results and was not embarrassed with my hair (or lack of hair) when attending the wedding. I received numerous compliments.

Please do not use a self tanner. It would only clog the hair follicles and make your problem worse. Hats and wigs are not a good idea either unless you get to the point where you are bald.

I would check with a doctor to see if you can pinpoint the problem. It could be a medical problem that needs attention.

I also like the story that was sent it previously about the girl with three hairs. Attitude is a big part of it. I am attaching a pic of me with all three of my daughters at the wedding so you can see my hair. And trust me, it is so thin that you could see my scalp no matter what. Good Luck. (03/20/2007)

By Lil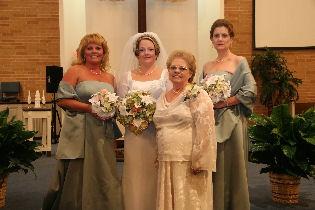 Tips for Hiding Thinning Hair
I also have thinning hair.I found a product called Toppik that is a hair fiber that you shake on where the thinning places are. It really covers them up. It comes in different colors,which mine is light brown but I am really impressed with this product. You can find it at amazon, ebay or several other places I have seen it.It is a little expensive but I think it is well worth it. It stays on until you wash it out. Sure makes me feel better about myself. (08/17/2009)

By Barbie62