Before you visit a dermatologist, there are a lot of ways to remove or reduce the appearance of blemishes naturally. Many factors contribute to acne outbreaks and everyones skin is different, so remember that what works for one person might not work for you. In severe cases, acne should be treated by a licensed dermatologist and treated on an individual basis.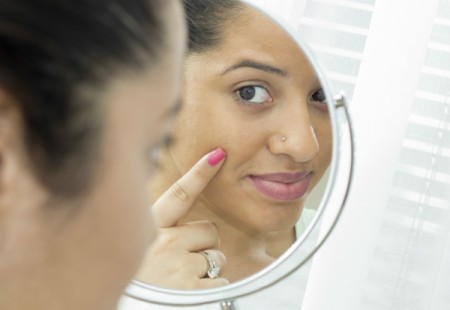 Natural Astringents/Antibiotics
Cabbage mask: In a blender combine ½ lb. (250 grams) of fresh cabbage leaves with 1 cup (236 ml) distilled witch hazel and strain. Next, add two drops of lemon juice oil. Apply this mask in the a.m. and p.m.
Tea tree oil is a natural antibiotic and antiseptic. Dab full-strength tea tree oil (sparingly) on blemishes three times a day, or add 1 drop of tea tree oil to ¼ cup warm water and pat it on the affected areas with a clean cotton ball. Washing your face with tea tree soap also works well. In some cases, tea tree oil can cause increased irritation and should not be used by people with acne rosacea.

Reducing Swelling and Inflammation
Cucumber slices: Have you ever heard the expression cool as a cucumber? Theres a reason for that. Cucumbers are loaded with antioxidants. When applied to your skin, cold cucumbers reduce irritation and reduce swelling while freshening up your skin. Slice a refrigerated cucumber and place the slices on your blemishes. Leave on for ten to fifteen minutes, and then remove and rinse with lukewarm water.
The Aloe Vera plant has been used for thousands of years to heal a variety of conditions like burns, wounds, and skin irritations. As succulent houseplants, they are easy to growjust set them in a partially sunny window and water them sparingly. When you want to remove blemishes, just snip off a bit of the plant and rub the fleshy insides directly on your skin. The gel inside Aloe Vera plants contains a concentrated mix of anti-inflammatory fatty acids and compounds that boost cellular regeneration. When applied to blemishes, the antibacterial properties speed up healing while helping to prevent new breakouts.
Minimizing Scars and Reducing Discoloration
Potato Rub: Slice a raw potato into thin slices and place them on your face over areas of discoloration. Leave on for twenty minutes, and then rinse. Potatoes act like a natural bleach to brighten skin and lighten pigmentation scars left behind by blemishes.
Tomato Face Mask: Grate a medium tomato and add couple of drop of lemon juice. Apply the mixture to your face like a mask. Leave it on for twenty to thirty minutes and then rinse with warm water.
Lemon and Turmeric Powder: Make a mask by mixing lemon juice and turmeric powder into a paste-like consistency. Apply to face and leave it on for fifteen minutes. Rinse with warm water.

Reducing Oil and Exfoliating
Milk of Magnesia: This remedy isn't exactly natural, but many acne sufferers swear by it. Use it 3 times a week to keep blemishes at bay. Pour a small amount of Milk of Magnesia (about 1 tablespoon) into a small container. Use the original non-flavored formula and be sure to shake the bottle before using. Apply to your face and blemishes using a cotton ball or clean make-up brush. Leave on for 20 minutes and wash off with lukewarm water. Milk of Magnesia works like a clay mask on your skin, drawing out excess oil that might otherwise clog your pores. This remedy should only be used by people with oily, acne prone skin. It is not recommended for people with dry skin.
Apple Cider Vinegar: Another popular blemish remover is apple cider vinegar. It helps balance your skins pH level and reduces excess oil. Apple cider vinegar also exfoliates dead skin cells and improves your skins overall texture. To use, make a solution of one part apple cider vinegar to eight parts water. Apply with a cotton ball to gently moisten your skin. Apple cider vinegar is strong enough to dry out your skin and cause further irritation, so dont overdo it.
Baking Soda: When made into a paste and applied to your face twice daily, baking soda works great for getting rid of acne scars naturally. It helps unclog pores, while killing acne-causing bacteria. It also gently helps exfoliate your skin, which exposes new, lighter colored cells. Combine water and baking soda and mix it until its the consistency of paste. Apply this mixture to your acne scars and let it sit for about 2 to 3 minutes. Rinse thoroughly with warm water.

Preventing Breakouts with a Healthy Diet
Several studies have linked the consumption of dairy products and sugary foods to an increase in acne. In fact, research suggests that many foods with a high Glycemic Index (GI) cause peaks in blood sugar and fluctuations in hormones, which instigates sebum (oil) production. High GI foods include sugary, carbonated drinks, cakes, pastries, chocolate, white bread and potatoes. Milk (skimmed milk in particular) and other dairy foods are thought to initiate outbreaks due to the hormones used in processing. To help prevent acne, adopt a diet that include foods with a low GI value and eat plenty of fiber to help your colon clear out toxins.

Juice cleanse: Acne can be a signal that your organs are not clearing out toxins optimally. You can stimulate and detoxify the liver with a juice made from one part beet juice, three parts carrot juice and two parts water to help clear your complexion from the inside out.

Almond-goat milk mask: Apply a paste made by mixing one teaspoon of almond powder (you can make your own by grinding peeled almonds in a coffee grinder) with a cup of goats milk. Let this almond-paste mask dry on your face for a few minutes before washing it off.
If your efforts to clear up your skin using these natural blemish removers do not seem to work and your acne is getting out of control, make an appointment to visit a dermatologist.