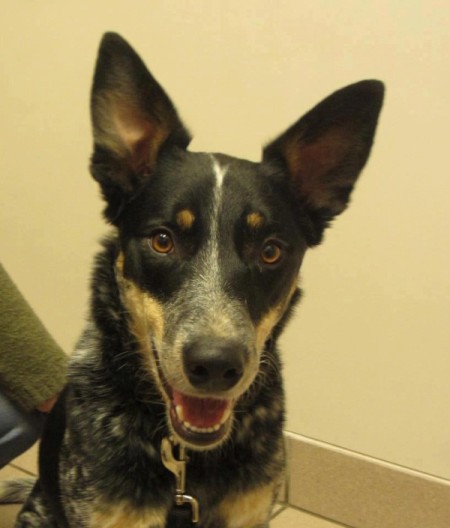 Your Pet's Age
5 years 8 months
Your Pet's Breed
Australian Cattle Dog/Border Collie cross
How and when did you get your pet?
I adopted Tobey from a rescue organization in September 2010 when he was 6 weeks old. Why? Because his picture was cute on Petfinder.com and because I had lost my ACD Lucy in 2009 to cancer.
What does your pet like to do for fun?
Tobey is amazing at finding ways to have fun! He likes to throw tennis balls around the backyard and chase them (yes, he throws them himself from his mouth!) And in the winter months he likes to nose a block of wood around the snow in the backyard for hours on end. But what does he loves best? To bark at the door so I let him out, then 1 minute later to bark to be let in, then once inside, to bark again, 1 minute later, to be let outside - and on and on and on. He has me very well trained!
Do you have anything else to share about your pet?
For a cross between 2 smart dogs, he isn't the sharpest knife in the drawer but he sure makes up for it with love and loyalty! Last year, my mom didn't close the front door properly and the wind blew it open and both Tobey and his sister Molly got out. We chased after them right away and Molly came back within one minute, but Tobey was gone - nowhere in sight! Luckily Molly is a Beagle/Jack Russell cross and put her Beagle cap on and tracked him, and I put him on Facebook on Lost and Found Pets of Haldimand-Norfolk. He was trying to find our house (we had just moved here) and he got so close sometimes, according to Lucy's tracking, but always turned the wrong way at the important corner. He was making a circuit of town from the eastern end to the western end, from the northern boundary to the southern boundary (luckily it's a small town), I don't know how many times a night! When I found him (through a sighting by someone in town) he had blisters on every paw. Oh, but he was happy to see me (and I him)! I was crossing a field when I saw him and you could tell when he recognized me - he perked up and started to run towards me. I started to run towards him and when we met he jumped up and put his paws on my shoulder and knocked me down, then tried to sit in my lap, meanwhile licking my face all over and wagging his tail so hard he almost fell over, whining in joy. I was crying and hugging and kissing him and the lady who had told me where she'd seen him that day was also crying. She drove us home (I found him at the northwestern end of town and we live centrally) and when we got to the front door, he was so eager to get into his house, he was whining and wagging his tail and trying to get through the door while I was trying to unlock it; and when we got in, he literally kissed the floor (he licked it!) then he ran to the back door and was so overjoyed to be in the backyard! He ran around it, and rolled on the grass, and sniffed everywhere. He licked Molly and he licked me. We were all overjoyed.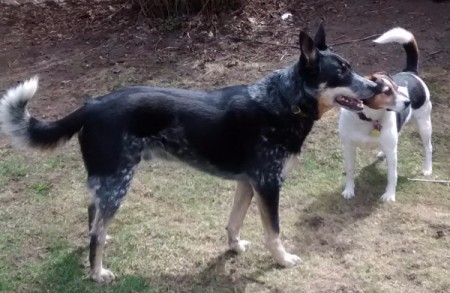 Add your voice! Click below to comment. ThriftyFun is powered by your wisdom!