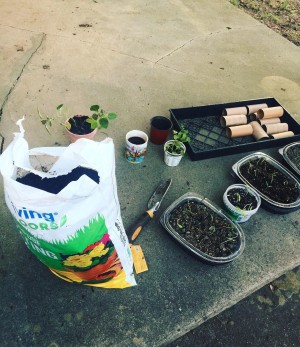 I had been saving all sorts of toilet paper rolls - I think mainly it was a habit from when we used to have a fireplace.
This spring when I decided to start my seedlings I realized I could make life a lot easier for myself if I just started the seeds in the toilet paper rolls! By then it was too late - I'd already started them in another conveyance, but I did decide to transfer them all to the rolls before I put them in the ground.
But why not start them in the TP rolls?
This would make them not only easier to separate when the time came, but it would allow me to stick them in the ground, as is. I would not have to dig them out. This could also afford some protection from pests, and eventually the toilet paper roll would wear down and the plant would remain.
I would start 2 or 3 seeds per toilet paper roll and then thin them down to where the strongest one was growing. Sometime mid-May I put them all in the ground.
I think I will do this from now on every time I want to start my own plants.