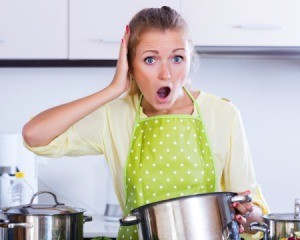 I made Rogan Josh, a curry dish, for the first time and find it too hot/harsh for me. My husband loves it. What can I do to to smooth out the bite? I love butter chicken and korma and want to find other Indian dishes to enjoy.
By elaine from Ontario, Canada
Answers

PENNY K
Bronze Feedback Medal for All Time! 107 Feedbacks
February 18, 2010
0

found this helpful
Best Answer
There are two things that might help: with all spicy dishes, cook the spice itself over low-med/low heat in the oil/fat of recipe the spices to mellow, before putting in other ingredients. I heat my pan to med low, add oil and butter [has to be low enough not to burn butter], oil first, put in spices and saute, stir for few minutes, add my onions and garlic, my pieces of meat, all the while stirring. You don't want spices to burn or get overheated. I add more oil as needed. Then I add veggies and stir them in mixture, and lastly, liquids, cover, cook fairly low to blend flavors.
The other thing is try other brands of curry. They have many, many,many blends and each is unique. You just have the wrong one for you.
My favorite is Sun Brand Madras curry, gold label [they have green label, cooler, and red, hotter]. Also McCormick, gourmet collection red curry is delicious. Even though it's called hot, it's got a wonderful complexity to it that doesn't come across as hot, so much as flavorful. I have trouble finding the Sun in
Denver, know it's available in Portland and Seattle.
Most Asian markets have packets that are reasonable and you can try a bunch that way. The McCormick is spendy, but I caught it on a sale.

February 18, 2010
0

found this helpful
Best Answer
Evaluate what kind of food you're making. You don't want to add something to a recipe that will change the flavor too much. So be aware of how a recipe should taste before you change it. Is the dish spicy sweet? Or is it flaming hot?
Depending on what the recipe calls for, add less of the ingredient that makes the food spicy. In most dishes, the heat comes from curry or some sort of pepper. When cooking with peppers, try cutting the pepper open and removing the seeds. Pepper seeds can turn up the heat on any dish.
If you're too far into the process of cooking to add less of the initial ingredient, try adding milk, flour, yogurt or vinegar to taste. For sweeter items, honey can also be an excellent alternative.
If the dish is still too hot, try serving less of the dish or mixing it with a starchy vegetable like potatoes or corn to alleviate a bit more of the heat. Corn will go unnoticed in chili, and potatoes are often found in curries.
If the meal is complete, or the ingredient is baked in, serve the food over a bed of rice, with bread, or some other grain. Grains are basic foods and will tone down the heat of your dish.

February 19, 2010
0

found this helpful
Best Answer
I do a lot of Indian cooking and love that cuisine so much. To tone down over-spicy foods you can add some plain, non-flavored & unsweetened yogurt to the dish. If adding yogurt isn't appropriate for the dish then make a side-dish of yogurt chutney (plain yogurt, chopped onion, salt, diced hot chili (to taste, or omit), and chopped cilantro).
Eat the yogurt chutney as a complement to the extra-spciy dish and the yogurt will cool down the spice.

February 19, 2010
0

found this helpful
Best Answer
I've often made a curry that's too spicy. When I dish it up I always serve a dish of plain unsweetened yoghurt. You can add as much or little to your own taste to cool the spiceness down. This tip was given to me by an Asian friend. Hope this helps.
Answer

this Question