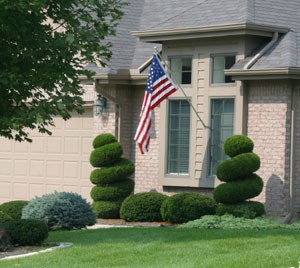 By definition, topiary is the art of training, cutting, and trimming plants into ornamental designs. The word itself is from the Latin word, topia, meaning "ornamental gardening." Invented by gardeners as early as the 1st century AD, topiary art later became the gardening rage in the Middle Ages.
It was popular throughout the Italian Renaissance, and revived again in 17th century France, where gardeners are said to have taken the art "over the top" with their elaborate, and often whimsical designs. Most design trends have a tendency to repeat themselves. This time it took a few dozen decades, but topiary design is making a comeback.
Topiary Types
There are two basic types of topiaries: slow-growing shrubs and fast-growing sphagnums. The slow-growing shrubs must grow within a frame, often made from mesh or chicken wire. As shrubs grow they are clipped, pruned or tied to fit the shape of the frame. This type of topiary can take many years to become fully formed and is often seen in formal, well-established gardens.
Sphagnum topiary, on the other hand, grows at a much faster rate-usually within three to four months. For this type of topiary an open "skin" or a frame is used. Sometimes the frame will come in halves that are fitted together after planting. The frames are stuffed (or come pre-stuffed) with sphagnum moss and plants are added to the moss to create a pre-determined shape as they grow. For most gardeners, sphagnum topiaries offer an easy way to experiment with topiary design without having to invest large amounts of time before seeing the results.
Framing Your Design
With topiary design, to me the fun is in the frame. Designs can range from the classical and formal poms, spirals and cones, to the whimsical and funny monkeys, dinosaurs and bumble bees. Topiary design is only limited by your imagination. You can make your own form using supports like mesh or chicken wire, or purchase ready-made frames or complete kits. If you have an unusual idea for a frame, several companies offer custom designs.
Without realizing it, you may already posses a topiary frame. If you decorate your yard during the holidays with deer or spiral Christmas trees, they will double as topiary frames during the growing season. Try covering them with a fast-growing vine, or in the case of deer, you can just stuff the hollow frames with sphagnum moss and add plants. When cool weather strikes, the foliage will die back and your yard decor will already be in place.
For those brave enough, you can cut "windows" and "doors" or other geometric shapes into already existing privet hedges.
Keeping Your Design Alive
There are plenty of books and websites offering step-by-step advice on starting topiary projects, but here are some basic tips:
Plant selection is important. For sphagnum topiary, plants with a spreading habit and plants that root from the stem are good choices (ivy, Scotch moss, rosemary, solerolia, creeping fig, etc.). Holly, bay and yew are good choices for slow-growing shrub topiaries. Don't be afraid to deviate from traditional topiary plants. Blooming vines or colorful annuals like wave petunias can add dramatic color to your designs.
If using two or more different plants on the same frame, make sure they have similar light and moisture requirements.
Use drought tolerant plants on the outer tips of topiary frames (ears, legs, etc.). These parts of the frame will dry out the quickest.
Treat your sphagnum topiary like a hanging basket. Keep the soil or moss within the frame moist at all times. This mean watering every day.
Fertilize plants growing in frames every other week with a balanced organic fertilizer. Use fertilizer in the liquid form from a sprayer attached to your garden hose.
Prune and trim as necessary to maintain the shape of your design.
In the winter, water well before the frost arrives. If necessary, move your topiary to a protected location like an unheated garage. Make sure it gets some diffused light and water once a month.
To prevent breakage, remove snow and debris from topiaries overwintering outdoors.
Comments
By Lynda (Guest Post)
August 24, 2006
0

found this helpful
I have perhaps had every possible shape and type of topiary imaginable, having lived in Hawaii for three years, then in other homes in Houston and
Dallas. Each home had topiary potential and I took the bait. I have trained so many different kinds into
all sorts of shapes successfully. However, it requires
MUCH maintenance that I cannot now afford. I love
the look, but find the most quality topiary is best for those with LOTS OF TIME, MONEY, KNOWLEDGE and PATIENCE. Each time we moved, I immediately began picking which "wild" shrub/small tree I would shape, usually according to what it was trying to do naturally but needed help. I made "drum" shapes out of Cherry Laurels, beautiful "spirals" of Wax Ligustrum, Oriental shapes of
Youpon Holly and Junipers of all kinds. I had touble
with spider mites on the Junipers, and white flies on Gardenias. I have bent Italian Cypress, and made
baskets of Privets, all sizes/shaped animals of moss filled chicken wire shapes, and various tiered layered topiaries.
(I prefer espalied vines and trees on walls and fences to topiaries.lol)
I often thought about teaching these "crafts" but
few folks want to go through all the various stages
and even fewer have the forsight, imagaination, or patience to wait while each plant grows. Oblisks are popular shapes I have never done. Poodle poms are the most common shapes sold in garden centers, and shaping junipers can be very "sticky" business,
with pricks and allergies to tend afterwards. The simpler the easier, but the most valuable are those
whose owners have spent years tending and training, or purchased already "done" and then took the credit! lol.
If I had it to do again, I would NOT do it, but to each her own. It breaks my heart to see one die, which they do too often from lack of water, wrong pot,
poor sun, over-fertilizing, pests, lack of knowledge, poor drainage, no winter protection, or improper instruction, etc. It really makes money for the garden centers, but costs much more than money for the disappointed owners, unless they are lucky enough to have a gardener or do not have to work outside the home environment and can easily replace their loss. Calif. seems to have the most experience, best climate for topiaries, and lots of Oriental gardeners to maintain them. They are very formal for the most part, and as a retired Realtor, I find gardens becoming more casual than formal, except under those special circumstances. It makes much more sense to me to allow the plants to exist in their most natural state, doesn't it you? England and France have boxed, pruned, sheered, braced, and commandeered and documented more evergreens than any other nation on earth that I know, not to mention hired/fired more Gardeners. I don't see the U.S. trying to compete with them in the least. lol. They have many hundreds of years on us in that area. The Orientals work towards root-binding Bonsai for religious reasons, and consider all gardening that is not edible, an artform and part of their culture of focus/worship. These are both dangerous and serious days for America, and I see "victory gardens" returning more and more, in
case of food shortages, among all "classes", or more
homeland war threats that may come to pass. I encourage all gardeners to become practical, to roll up their sleeves, to read, and learn how to tend, grow, toil, and reap their harvests with JOY, MORE than dreaming of the serenity of wide rolling greenbelts of golfing-range type lawns and evergreen specimen plants in elaborate overpriced pots. Even though America still has a lot of wealth, "it rains on the just and the unjust" , the poor and the wealthy, and could happen to us all at any moment, as one can clearly read in the REAL news daily now. Better prepared and safer, that unprepared and sorry. "I trust in God and tie my camel" as I believe He expects us to do ! lol God bless you.
October 7, 2008
0

found this helpful
Can anyone tell me what type of plant or shrub is used in the featured spiral topiary's I wuld really like to find something like that...Thanks everyone..
this is my very first post...and just want to say HI!! to everyone...charlie