EllenB
Gold Post Medal for All Time! 858 Posts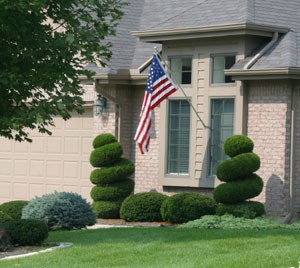 By definition, topiary is the art of training, cutting, and trimming plants into ornamental designs. The word itself is from the Latin word, topia, meaning "ornamental gardening." Invented by gardeners as early as the 1st century AD, topiary art later became the gardening rage in the Middle Ages.
It was popular throughout the Italian Renaissance, and revived again in 17th century France, where gardeners are said to have taken the art "over the top" with their elaborate, and often whimsical designs. Most design trends have a tendency to repeat themselves. This time it took a few dozen decades, but topiary design is making a comeback.
Topiary Types
There are two basic types of topiaries: slow-growing shrubs and fast-growing sphagnums. The slow-growing shrubs must grow within a frame, often made from mesh or chicken wire. As shrubs grow they are clipped, pruned or tied to fit the shape of the frame. This type of topiary can take many years to become fully formed and is often seen in formal, well-established gardens.
Sphagnum topiary, on the other hand, grows at a much faster rate-usually within three to four months. For this type of topiary an open "skin" or a frame is used. Sometimes the frame will come in halves that are fitted together after planting. The frames are stuffed (or come pre-stuffed) with sphagnum moss and plants are added to the moss to create a pre-determined shape as they grow. For most gardeners, sphagnum topiaries offer an easy way to experiment with topiary design without having to invest large amounts of time before seeing the results.
Framing Your Design
With topiary design, to me the fun is in the frame. Designs can range from the classical and formal poms, spirals and cones, to the whimsical and funny monkeys, dinosaurs and bumble bees. Topiary design is only limited by your imagination. You can make your own form using supports like mesh or chicken wire, or purchase ready-made frames or complete kits. If you have an unusual idea for a frame, several companies offer custom designs.
Without realizing it, you may already posses a topiary frame. If you decorate your yard during the holidays with deer or spiral Christmas trees, they will double as topiary frames during the growing season. Try covering them with a fast-growing vine, or in the case of deer, you can just stuff the hollow frames with sphagnum moss and add plants. When cool weather strikes, the foliage will die back and your yard decor will already be in place.
For those brave enough, you can cut "windows" and "doors" or other geometric shapes into already existing privet hedges.
Keeping Your Design Alive
There are plenty of books and websites offering step-by-step advice on starting topiary projects, but here are some basic tips:
Plant selection is important. For sphagnum topiary, plants with a spreading habit and plants that root from the stem are good choices (ivy, Scotch moss, rosemary, solerolia, creeping fig, etc.). Holly, bay and yew are good choices for slow-growing shrub topiaries. Don't be afraid to deviate from traditional topiary plants. Blooming vines or colorful annuals like wave petunias can add dramatic color to your designs.
If using two or more different plants on the same frame, make sure they have similar light and moisture requirements.
Use drought tolerant plants on the outer tips of topiary frames (ears, legs, etc.). These parts of the frame will dry out the quickest.
Treat your sphagnum topiary like a hanging basket. Keep the soil or moss within the frame moist at all times. This mean watering every day.
Fertilize plants growing in frames every other week with a balanced organic fertilizer. Use fertilizer in the liquid form from a sprayer attached to your garden hose.
Prune and trim as necessary to maintain the shape of your design.
In the winter, water well before the frost arrives. If necessary, move your topiary to a protected location like an unheated garage. Make sure it gets some diffused light and water once a month.
To prevent breakage, remove snow and debris from topiaries overwintering outdoors.
Read More

Comments