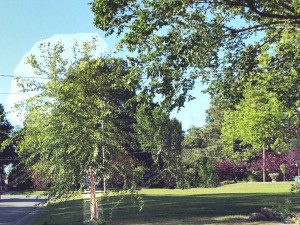 We know almost nothing about what plants know. We do know they engage in chemical and other types of warfare. We know they send out chemical messengers to warn their like kind of danger.
More commonly known is how plants form symbiotic relationships with other plants and with animals. A good example is a flower that opens only at night. More specifically, at just the time when its pollinator, the bat, is known to fly in the vicinity of the plant.
It is apparent, plants are aware of their surroundings. In the picture, I have highlighted the trunks and top left of a small river birch. This birch is well aware of the presence of a large hornbeam tree to its right. Its trunks and top branches indicate its trying to keep its distance from the hornbeam.
Why is this happening? A courtesy, because the hornbeam is older and was there first? Maybe the hornbeam sends out 'stay away from me' chemical messengers to the birch. There is so much we don't yet know.
With plants having awareness of their surroundings, they know when they are in close quarters. Bedding plants in 6 cell packs are well aware of their limited space. When their roots have filled all available space, they bring their growth to a halt. The plants go more or less into stasis.
This slow down is beneficial to the plant in short term, but it can harm future development. The plant is 'set back' and will never grow to its full potential as it would had its roots had ample room at all stages of its growth.
There are a few plants that do best when pot bound. Bedding plants are not in this group. They need space for proper root development. It is best to get those plants out of their small containers and into larger containers or in flower beds or garden as soon as possible. A day or two won't make much difference. A week or two will.
With a plant having concern for the welfare of its like kind and having a need to warn them of danger, is it too farfetched to think plants may also have enough intelligence to be appreciative of you transplanting them to more spacious living quarters? Me thinks it not farfetched, at all.