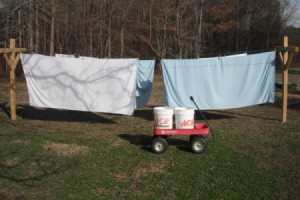 This is a tip for old folks like me and maybe some young folks as well. Use five gallon buckets and a wagon to take heavy wet laundry to the clothesline.
For Christmas, I finally got the clothesline I have been begging for and I have really enjoyed hanging out clothes. It not only saves electricity but I'm hoping it will add some more years to the life of the clothes dryer.
My clothesline is not as high as I wanted it to be, which turned out to be a good thing. These old shoulder muscles can't handle a lot of reaching up. I found that out my first try reaching over into the clothespin bag hanging on the line. It hurt.
After several tries to take the wash outside without help, I found it easier for me to carry it in 2 five gallon buckets. The bucket is less bulky and safer to carry, especially going out the door and down the steps to the wagon. I take one bucket at a time. With the wagon, I can easily pull the load to the clothesline.
The wagon elevates the load and I don't have to do much bending over to pick up the clothes to hang them on the line, which is another great help for this old rickety back of mine. When I need to, I move the wagon down the line to hang more. No bending over and lifting needed.
In the winter, I have to watch the weather and plan my wash days. That's not too hard to do when you are retired. I'm really looking forward to the summer days when I can hang out clothes and they dry in an hour or so.