June 12, 2012
0

found this helpful
Take a benadryl and use the pink calamine lotion.
June 14, 2012
0

found this helpful
Go to the drug store and by a cream called Ivarest. My husband suffers from these poisons also and it is the only thing I have found that actually works. He swears by it.
June 14, 2012
0

found this helpful
I would also recommend taking Benedryl (or the generic equivalent which is much less expensive) but beware that Benedryl can make you very drowsy.
June 14, 2012
0

found this helpful
I have found that germX hand sanitizer from Dollar General really works. It eases the itching and dries up the rash.
It took bout four days to completely disappear. I applied it before I went to bed and anytime it started itching. Other sanitizers would probably also work.
June 14, 2012
0

found this helpful
I'm sure I'm going to catch it for this, but Hubby and I had it so bad one year and nothing was helping. We ended up dipping a Qtip into bleach and dabbing it on very sparingly. It dried it out quickly and the itch went away fast.
Sandy
June 14, 2012
0

found this helpful
I'm not suggesting this will work for everyone, or even if that it's a doctor recommended thing, just going to tell you what worked for me and I don't know if it'd work for anyone else. I'm extremely allergic and tend to break out all over if I've touched poison ivy in enough places, so I was willing to try anything and did, after researching it a lot. There are shots from the doctor that can help, but I used to go get them for several days in a row and suffered anyway. Also took Benedryl, which helped, but didn't heal it any faster.
What finally worked for me, and still does, are some little pills from the health food store. It's a homeopathic remedy, simply referred to as 'Poison Ivy Pills'. They come in a bottle of several hundred for about $8 or $9. They help the outbreak go away faster and as long as I take them a couple times a week, I can now touch poison ivy and don't break out. Have been doing this for several years, after finding that local landscapers use these pills so they don't break out.
One year, I ran out and didn't take them one summer. Of course, someone touched my arm after touching ivy, and I broke out with a large hand shaped blistered area. Again, to the web for a home remedy to stop the insane itching that night. Barely believed it, but ready to try anything, I read that cleansing the area and very gently rubbing salt over the damp spot for 60 seconds would help. I did it, it stung just a little at first, then slowly it felt wonderful as the salt sort of scratched the itch, I guess.
Afterward, I rinsed it off, and covered it very loosely with gauze. NO ITCH for almost 24 hours, and by then there were very few blisters left and the red area was much smaller. Repeated the treatment with a 60 second gentle salt rub, and again, no itch for almost 24 hours. By the 3rd treatment the next day, there was barely any red left and no blisters. Normally, it's be about 10 days for me to get to that point.
Don't know why either one worked for me, but it's what I used. I've since found that Dawn dish soap will remove the poison ivy oil if you wash right after you know you've touched it, but I continue to take the poison ivy pills and now take them daily
since it grows for most of the year in our area. It's easy to touch and not know notice it.
June 14, 2012
0

found this helpful
Anytime I have been exposed to poison ivy, I immediately wash with rubbing alcohol. However, if I don't catch it in time, or for extra measure, I follow up with 3 to 4 grams of vitamin C every 3 to 4 hours, or as soon as I start feeling itchy.
After 5 days, there is no evidence of poison ivy. I researched and found this only after I had intensely suffered with poison ivy for about 3 weeks, with scars taking even longer to heal. I hope this helps.
June 15, 2012
0

found this helpful
hydrocortisone cream
June 17, 2012
0

found this helpful
I have the stuff on my face now and look like a monster. My neck, in between my fingers...looks horrid.
I was given some Australian Eucalyptus and it seems to really work. But, I took CVS allergy (Benedryl) and have slept all afternoon.
There's also Rhus-Tox that was purchased at the local health food store that you put under your tongue to stop the itch. It worked but you need to use the pills every two hours.
August 5, 2012
0

found this helpful
I found a great itch relief remedy during an online search somewhere. Use a gel antiperspirant that contains alumin in the ingediants for the itch.
Don't know how, but it works. Might keep down the sweat that washes away other products. Have used it twice this year and it works. Seems to help with a wasp sting, too.
August 5, 2012
0

found this helpful
I have been using the same thing that Crafter Mary recommends for over 25 years.They are Hyland's Poison Ivy/Oak pills and are available on Amazon.com for $6.49 with free shipping for 50 pills using this link:
www.amazon.com/.../ref=sr_1_1?ie=UTF8&m=A3B363O1G6E8FS... (Affiliate Link)
Harlean from Arkansas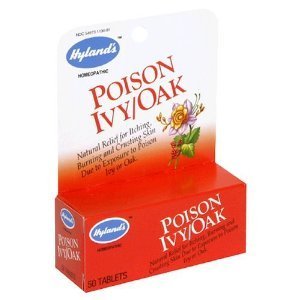 August 7, 2012
0

found this helpful
Crush 6 Bayer asprin and disolve into 1/2 cup of rubbing alcohol and apply at least 3 times a day. Stops the itch and dries up the blisters. Have used this for years. Note of caution: Store in glass container only. I don't know why, but Bayer seems to work the best. Hope this helps you.
August 7, 2012
0

found this helpful
I use hot water. I got it on my hands one year and found a site on the web that recommended hot water to ease the itch. I hold my hand under the faucet, running hot water, (not burning hot, of course). The hot water releases the histamines that cause the itching. The itching will stop until the histamines build up again... usually in a few hours, then I do it again.
This wouldn't be practical for some areas on the body but worked great for me on my hands,