October 24, 2017
1

found this helpful
Best Answer
I get them too. A few years back a pharmacist recommended I go to the Dollar Tree and get some athletes foot cream. It has the same ingredients as the expensive stuff. I have never bought anything cheaper but more importantly, better. Almost instant relief. I hope you try it as it will help.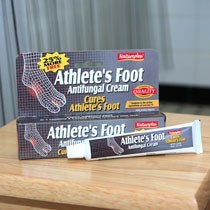 February 27, 2018
0

found this helpful
I buy this too and it works great for rashes..You can get it at Dollar Tree for a $1.
October 24, 2017
0

found this helpful
Best Answer
I had that problem for years - tried everything. I finally realized one day that since it's the sweat that causes the rashes, I needed to find a way to keep it dry. Powders and such don't do any good - they become wet too.
So I went out and got an anti-perspirant deodorant. Problem solved. Never had that problem again. I worked for years with the elderly and disabled and recommended it many times. (This is after all. a very common problem.) Once anti-perspirant was applied the problem always went away.
October 25, 2017
0

found this helpful
Best Answer
The area under my stomach can get very sweaty and eventually sore, sometimes at the drop of a hat. Using Cetaphil cleanser helps, and dusting the area with Anti Monkey Butt powder helps a lot, usually after just one application. Gold Bond powder helps a bit, but the Anti Monkey Butt is excellent. Nystatin powder just seems to irritate the area more.
October 21, 2017
0

found this helpful
Well, it depends on the origin of the sore. When I take Penicillin I end up getting a yeast infection under my breasts. It feels the same as heat rash but then uncomfortable, the bra makes it further irritated and spreads even worse. Yet I'm not allergic to Penicillin but I was told it is a yeast-based antibiotic so sometimes it will have that effect.
Another thing to consider is if it is like a boil, then it originates from the sweat glands being clogged, so that could have already been in the process before you actually seen or felt it manifest to the top of the skin.
My last idea is if you were not on antibiotics it might be possibly worse so you don't really know that the medicines are not helping or not fighting it off. If you have been really sick with pneumonia though, I imagine your immune system is doing all it can to fight off your sickness and cant keep up. Same with the medicine.
Those meds are meant to target certain things and some things will go by under the radar but none the less I feel it is worth mentioning to your Doctor because with a weekend immune system you don't want to have to work any harder than you have to fight off any infections and also it could be a sign of something else or a side effect to one of your medicines that perhaps your Doctor can fix simply by choosing a different medicine. No need to suffer and wonder. Hope your feeling better soon!
October 21, 2017
0

found this helpful
You could have had a reaction to the medication.
Step 1
Try a cortisone cream, followed by zinc oxide.
Step 2
If that doesnt work, you may have to see a dermatologist.
October 21, 2017
0

found this helpful
Sore under skin folds.
Step 1
It is probably the medicine your on causing it to worsen.
Step 2
Wash in the shower daily,dry well.
Step 3
Put desitin cream and baby powder under the fold.
Step 4
Use a thin cloth rolled under the fold to keep the skin from rubbing together.
Step 5
Do this until the rash clears up.
Step 6
Always dry it very well.