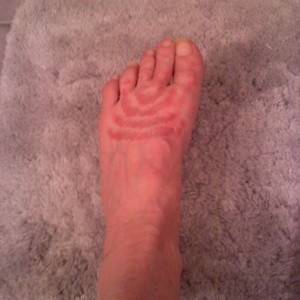 I have a red rash on top of my foot that is made up of 4 lines approximately 1 cm in width that turn circular to my toes.
My dermatologist has never seen anything like it. Does anyone know what it could be?
By Pat from RI
Answers
By Rudy (Guest Post)
August 1, 2008
0

found this helpful
Best Answer
Hi folks, Enough said above. Here is what you need to do.
1. Go to a dermatologist.
2. Before you make an appointment, find out if the dermatologist treats feet with rash, fungus or what ever problem you are having with your feet. Not all dermatologists are specialized in the same field.
3. When you get there, pay attention. Before any treatment is prescribed, the dermatologist should take a sample of your skin and send it to a lab for testing to diagnose the correct infection. If that is not being done, tell the dermatologist politely to have a sample of the infected area sent to a lab for testing. The reason why this is important. They are several types of feet infections that look the same and all the cures are different.

May 12, 2009
0

found this helpful
Best Answer
I have this problem also. Last summer I had a rash on one of my feet for most of the summer. Then this spring as soon as I started wearing flip-flops and flats it flared up. The rash is red, very itchy at times and almost blistered. I used a high strength hydrocortisone, but it didn't seem to do much.
My doctor and I finally figured out (I hope!) that it's actually photosensitivity (a reaction to the sun). She thought I might have had a sunburn on that foot at one time. I also take high blood pressure medication (a diuretic) that can cause photosensitivity. I've been wearing socks or sunscreen for a few days now and it's improving a lot.

December 10, 2010
0

found this helpful
Best Answer
I had a red itchy rash only on the tops of both feet for 6 months. Nothing I tried worked to stop the itch. I finally went to a dermatologist and he diagnosed it as an allergic reaction to the leather straps of my very expensive sandals. I own another pair that I wore all last year with no problems, but the newer pair apparently has something different in the leather.
I stopped wearing the shoes, took an antihistamine for the itch and applied a prescription cream. After one week the rash is totally gone. I will try wearing socks the the guilty shoes to see if that will work. They are just too expensive to give away.
Answer

this Question

I have persistent and very itchy rash on the top of both feet. This may be called a friction sore if it oozes and is aggravated by wearing shoes.
This started as a tiny insect-like bite on the top of my right foot a year ago. It itched like crazy and when I scratched it the sore increased to the size of 50c. I got some relief with triamcinolone acetonide cream .01% prescribed by a podiatrist, but didn't completely heal the sore.
After a few months the sore "magically" appeared on the top of my left foot, where it has been for over a year now. A dermatologist prescribed flucoinonide cream .05% and it seemed to clear up after a few days, but never healed completely.
Ethyl alcohol in hand sanitizer products will control the itching temporarily. I try not to scratch as this usually results in oozing and makes wearing shoes difficult.
I am still searching for the magical product that will completely heal these sores.

By Chagrined from Chagrin Falls, OH
Answers
By Lee (Guest Post)
May 6, 2005
0

found this helpful
Best Answer
I have the same thing but it is on both index fingers, itches like crazy! I thought it was a food allergy because my friend had it every time she ate acidic foods.
Benadryl or another antihistamine should help; I am allergic to them so I use Calamine lotion. It might help some but not a lot. Also keep them very clean and dry, maybe use a little antifungal powder, but not the cream as that makes it itch more. Drinking a lot of water also seems to help, and yes the sun makes it much worse. Good luck.
Best Answer
I used to have that kind of a rash. It's a foot fungus. It happened because I wasn't changing socks every day and changing which shoes I wore each day.
Use Tinactin, the important ingredient is tolnaftate.

April 20, 2011
0

found this helpful
Best Answer
I had a mysterious itchy rash on my lower legs (not my feet). Used chilled Bragg organic apple cider vinegar 3 or 4 x a day for about 4 days & it helped. Told a friend who had the same problem & it worked for her also. I think any brand apple cider vinegar would do the same. Hope it works for you.

April 26, 2011
0

found this helpful
Best Answer
If any of these suggestions don't work for you I have one more thing you might want to try. My sister swears by it. That is Preparation H cream rub it on at night and put on a pair of white socks. Try it for a few days and see if it helps. I hope you find a cure soon.
I had a rash years ago on the heel of my hand and tried everything I could get my hands on. It felt like the bone was even itching. It finally went away when I moved from the house I lived in. It had to be something there. Good luck.

April 30, 2011
0

found this helpful
Best Answer
Have you considered whether it could the fabric in the shoes, or maybe dye, or something else about the shoes you are wearing? Maybe even the socks you are wearing? Even if it has never happened before, it is possible.
Answer

this Question

I have a rash on the top of my left foot that started about 1 month ago! It began as a small bump that started to itch! I really thought it was just a bug bite until I noticed it growing larger the more I would scratch!
I noticed a few minutes ago that it's starting to puss Can anyone please help? Is there something I can use to relieve the itch, at least.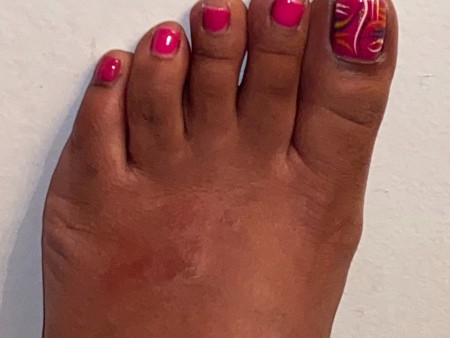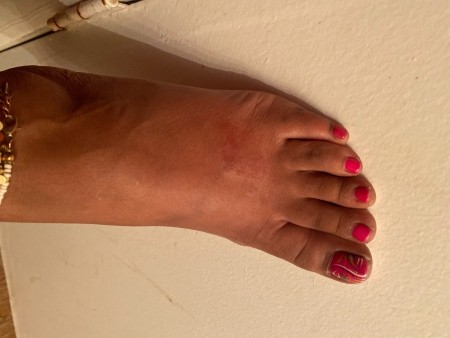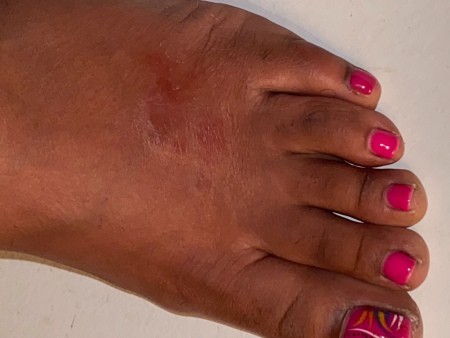 Answers

July 12, 2021
0

found this helpful
Best Answer
It is always best to consult a doctor when you have an unexplained rash but there are different solutions you can try in the meantime.
Are you wearing new shoes? Sometimes you can have a reaction to the type of material that shoe is made of - particularly leather.
I would suggest you visit your local pharmacist and ask for someone to take a look at the rash and see what they have to say. They will definitely advise you to see if a doctor if, in their opinion, it cannot clear up with OTC medication or DIY home remedies.
There are several types of rashes it could be but since we do not know where you might have been walking it would be difficult to pin point a reason/name for your rash.
One solution the may help remove the pus and relieve the itching is a Epsom Salt bath.
This can be done immediately and repeated several times a day (reheating the same water. Water should be as hot as you can stand (but NOT hot enough to burn).
Here is a link that has information on this 'soak'.
The salt bath will help even if the rash is from a fungus, poison ivy, bug/spider bite.
Hope you can find something to help.
www.healthline.com/.../epsom-salt-bath#bath
www.medicalnewstoday.com/.../epsom-salt-foot-soak#precautions

DianaHM
Silver Answer Medal for All Time! 440 Answers
July 31, 2021
0

found this helpful
Best Answer
It is difficult to pinpoint exactly what is causing skin itching, it can be a common allergic reaction to skin care products or some kind of medication. But some rashes are a sign of something more serious.
You do not write how you feel. If you have a fever or pain accompanying the rash, then it could be a sign that you have an infection or are experiencing an allergic reaction. This is a reason to seek medical attention.
You rash started about 1 month ago - this is really long. This is another reason to visit doctor.
Rashes that start to blister should send you straight to the doctors office too, unless you have good reason to suspect youve come in contact with poison ivy.
Or maybe you have Impetigo.
Impetigo is a bacterial skin infection. Symptoms include red, itchy sores that break open and leak a clear fluid or pus for a few days. Next, a crusty yellow or "honey-colored" scab forms over the sore, which then heals without leaving a scar.
But only a doctor can accurately answer this question.
Answer

this Question

I have this itchy rash on the top of my foot. It looks like tiny bumps and it itches a lot. It came up overnight, can anyone tell me what this could be?
By Daisy A.
Answers

June 27, 2011
0

found this helpful
Best Answer
Be sure to wear all cotton socks and use Bag Balm on it. My husband had this problem and the all cotton socks and Bag Balm worked.

susan
Silver Feedback Medal for All Time! 472 Feedbacks
June 27, 2011
0

found this helpful
Best Answer
Have you been wearing sandals with metal against the foot (from holding on a flower, beads, or any other design feature). It may be a metal allergy. I am allergic to metals and cannot wear many sandals because of this problem.
Answer

this Question

I have a red rash on the tops of my feet and shins. It began on one foot
then it migrated to the other. It does not itch nor is it scaly. It does
not hurt either. It is also on the back on my heel. Any ideas? Thanks.
Answers

Janet
Silver Feedback Medal for All Time! 399 Feedbacks
May 1, 2010
0

found this helpful
I get a rash when I wear non-cotton socks. My ankles get very dry, crusty and even bleed. The only cure for me is all cotton socks or sock-less. One foot is worse than the other. I've tried cortisone creams, calamine lotion, nothing works too well.
Read More

Answers