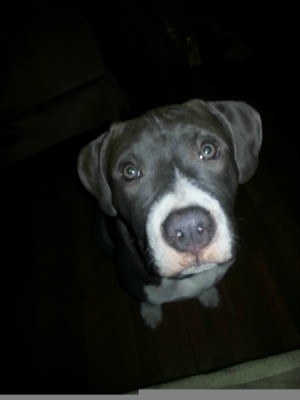 I have 6 month old Pit and she has had worms for most of her life. We have dewormed her a handful of times and it's not working. I wanted to know if there is anything I can give her at home that will help until I have the money for a vet? My dad told me to give her some beer and it worked for my other puppy, but not my 6 month old. Please help I don't wanna lose my baby :/
By Casey from Toledo, OH
Answers

Lizzyanny
Bronze Feedback Medal for All Time! 226 Feedbacks
February 21, 2014
1

found this helpful
Best Answer
Don't give your dogs alcohol. It can damage their kidneys and liver at fairly small doses. In larger amounts it is fatal. You can get wormer at the pet store, but only the Vets have the stuff that really works. Check with your local humane society for low cost Vet help.
Answer

this Question

My puppy is 8 weeks old and is really small. What home remedies can I give him for worms?
Answers

Pghgirl40
Bronze Feedback Medal for All Time! 196 Feedbacks
October 16, 2018
0

found this helpful
Never use a home remedy without running it by the vet first. Pups, especially one so young, need the right treatment quickly or this can be a serious issue!! Please talk to the vet ASAP and let me know what they say.
8 weeks is so young!! You want to give your baby a healthy start!! Prayers and healing wishes for all!!

October 17, 2018
0

found this helpful
I agree that 8 weeks is pretty young to be giving home remedies for any problem he may be having.
It is time to start his shots/vaccinations so you should be taking him to see a vet very soon as these shots can be life savers.
Just read some of the sad stories about young pups getting Parvo and you will have him to the vet quickly as this is a horrible virus.
Here is a schedule for a puppy's first year and you need to be sure he receives ALL of his shots as just missing one can cause serious problems.
After he is older you can give him small doses of Diatomaceous Earth (DE) (very important: Food Grade Only!) to be sure he has no worms.
DE can be purchased online, farm stores and at pet stores.

Lizzyanny
Bronze Feedback Medal for All Time! 226 Feedbacks
October 17, 2018
0

found this helpful
A puppy of that age requires special wormers only available thru your Vet. Anything else is very risky and could make him very sick. It is time for his parvo shots etc so see your Vet without delay.
December 17, 2018
0

found this helpful
My daughter found a small puppy wondering near by an wooded area near her home.she said he looks to be about 8weeks or more of age he was crying cold and hungry she fed him and he couldn't poop within a few days, but when he did poop it were worms what should I do.shed don't have money to pay for an vet,but she and her daughter have fallen in love with it and would love to keep it and want to help it
Answer

this Question

I need a home remedy for puppies with little white worms. I can't afford a vet.
By jewel hayes from Billingsley, AL

Answers

February 20, 2011
0

found this helpful
Jewel, I'm sure you mean well, but dogs with worms need to be first diagnosed and treated by professional vets. I understand that money might be an issue, but you are doing them no favors by trying to treat them without vet care. If nothing else, please call around your area and ask if vets or animal shelters can help you with payment plans or grants.
Your babies need your help . . . please search out sources than can help you help your puppies and not unproven home remedies. Good luck and best wishes.

February 20, 2011
1

found this helpful
I don't know much about dogs, but I know heart worms are fatal, and they're white. Go get some medical attention for your puppies, before it's too late. I hate to say this, but if you can't afford a vet, maybe you should think about whether you can really afford a dog.

vicki hood
Bronze Feedback Medal for All Time! 102 Feedbacks
February 21, 2011
0

found this helpful
Diatomaceous earth given every day. Must be food grade. Your garden dia earth has poisons. Must be food grade. A healthy natural product. I get mine from www.earthworkshealth.com. Inexpensive and used in several ways.
Fleas must be eliminated. Fleas carry worm infestation. Build immune system. Good diet (easy fix at home) with nothing from pet food aisle at the grocery store. Read my past postings for more.

Sherri
Bronze Feedback Medal for All Time! 180 Feedbacks
February 21, 2011
0

found this helpful
Hello, I have worked for a Veterinarian for over 27 years. Please take your fur baby to his/her Veterinarian. There are different kinds of worms and they must be treated with an prescription. There is not a home remedy to rid your pet of any type of worm. Good luck

February 21, 2011
0

found this helpful
For those of you that are looking for an all natural treatment for fleas, ticks, worms in and on your pets, try using diatomaceous earth. Be sure to use only food grade, as there are other types on the market that are toxic; such as that used in pool filters.
Check online at:
http://gardenharvestsupply.com
. Remember to ask your vet before using.
Answer

this Question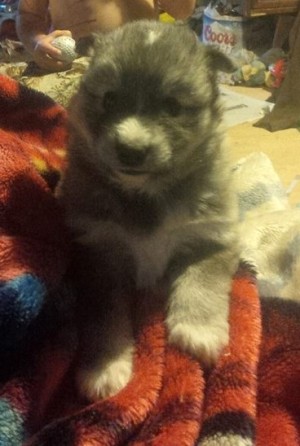 I have a 6-7 wk old Husky/Lab male puppy named Damian that is vomiting up 5-6 inch long worms. I'd prefer to do a natural treatment; is there anything you can suggest?
By Vicki A
Answers

DCA
Bronze Answer Medal for All Time! 220 Answers
December 27, 2014
0

found this helpful
Your puppy has a severe problem that needs treatment immediately! I searched online and immediately found this site:
www.veterinarypartner.com/Content.plx?A=476
This informaton below is from this site-please take your puppy to your vet immediately! Note that you and other people can also become infected with the worms.
Roundworm infection can have numerous negative effects. It is a common cause of diarrhea in young animals and can cause vomiting as well. Sometimes the worms themselves are vomited up which can be alarming as they can be quite large with females reaching lengths of up to seven inches.
The worms consume the hosts food and can lead to unthriftiness and a classical pot-bellied appearance. Very heavy infections can lead to pneumonia as the worms migrate and, if there are enough worms, the intestine can actually become obstructed.
It should also be noted that human infection by this parasite is especially serious (see below). It is important to minimize the contamination of environmental soil with the feces of infected animals so as to reduce the exposure hazard to both humans and other animals.

December 28, 2014
0

found this helpful
Very cute puppy. Please do not attempt a home remedy for this serious problem. I understand you'd prefer natural medicine for your pet, and that's fine for more minor problems such as ticks, fleas, and mild rashes. However, when your dog is vomiting 6-inch worms that is the time to take him to the vet and get medicine.
Think about it: If you were personally vomiting 6-inch worms, would you look on the internet for possible internet cures, or would you make an appointment to see your doctor?
Answer

this Question

I need a home remedy that will cure her.
By Monique from Chicago, IL

Answers

September 5, 2013
0

found this helpful
FOOD GRADE Diatomaecous Earth. You can get it on line or at your local feed store.
Answer

this Question
My 9 puppies are 6 days old and have worms. How do I help them?
By Malinda

Answers

Sherri
Bronze Feedback Medal for All Time! 180 Feedbacks
July 27, 2013
0

found this helpful
Hello,
Please call your Veterinarian for advice. Mother's will sometimes pass the worms on to their puppies when they are born. Your Veterinarian can also treat the mother. Please take a stool sample to your Dr., so he/she can deterimine whiich worms to treat. Good luck
Answer

this Question