August 10, 2017
6

found this helpful
Your Pet's Age
Roxie our rescue pup is approximately two years old now.
Your Pet's Breed
Treeing Walker Coonhound
How and when did you get your pet?
When you rescue a dog you don't know who has rescued who. You fall in love and they are so grateful to have a home. I found her in North Carolina and we drove all the way to get her. She was scared and helpless and needed love and that we can give. She weighed only about 25 pounds and today she is a loving 75 pounds dog that knows she is in a family. I challenge anyone to rescue a pet today. So many are abused and just want love. Well Roxie has this now and loves her sisters.
What does your pet like to do for fun?
When we first got her she loved to dig up moles now she is into barking at the wildlife.
Do you have anything else to share about your pet?
She loves to be cuddled and sleep close to us. If she hears the treat box she will come a running.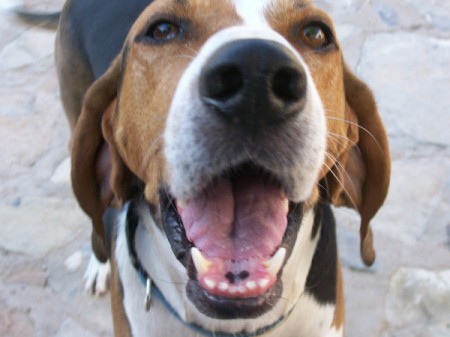 Your Pet's Age
5 years
Your Pet's Breed
Walker Coonhound
How and when did you get your pet?
Humane Society in 2012.
What does your pet like to do for fun?
Go for walks and play chase with our other dog.
Do you have anything else to share about your pet?
He's smart, funny, clean (doesn't like to roll around in objectionable things), loving, and minds pretty well.
Here is Chester. He is 6 years old and part Lab /part Treeing Walker Coonhound. We got Chester from the animal shelter when he was just a young puppy. He loves to chew on bones or anything else he can find!
I believe Chester is the best dog in the world. Of course, I'm probably biased! He is the most submissive dog we've ever had. He's afraid of everyone and everything; the biggest chicken you'll ever meet. But, he is so lovable when he knows you. You can buy him bone after bone and he still will find sticks to chew on. How yummy is that?!
By Debby
Sasha is 2 years old and is a Boxer Hound mix. Loki is 6 months old and is a Treeing Walker Hound. We got them from the Summit County Animal Shelter.
They like hiking, playing with the kids, chasing each other, and jumping on the trampoline with the kids!
Both of our dogs are very sweet and friendly. They love the kids and are very protective of all of us!
We are lucky enough to live where dogs are loved, every store has one for a mascot, and every resident has one for companionship! They even have their own park and doggie bakery! It's called the Barkery, clever huh!
If it is just to take a walk, or going camping, or whatever adventure we go on as a family, the doggies are there to share in the adventure.
Sasha will sit at the door or window and cry when the kids leave and will do this until they come home. She is a worry wart!
Loki is still molding his personality but he is very smart and has taken to Jade, our youngest daughter.
Pictures shown are, 1st one is Sasha and Alyssa and the 2nd one is Loki being cute!
By JoAnn from Breckenridge, CO
Sorry to JoAnn that this has taken so long to publish. It got lost in the shuffle.