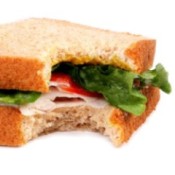 Now if you are like me, you cooked a turkey that was way to big for your family. Ours was a gift from our son in law, Jose. He bought us a twenty three pound bird and it was way too big, even though we fed a crowd. So for the last couple of days, we have been experimenting with turkey sandwiches. Now my husband Leo loves turkey sandwiches but he is a generic kind of guy and likes just plain turkey with mayo. My son in law David loves sandwiches with the whole dinner on it; turkey, gravy and stuffing and mayo. But my daughter and I are sick of turkey the next day. So here are some recipes that we tried that turned out pretty good.
Turkey Sub
Leftover Turkey cut into chunks
One soft hoagie roll
Lettuce
Cranberry sauce
Cut the hoagie roll in half and spread the cranberry sauce on both sides. Next put the lettuce on both or one half. Layer on the turkey. Great sandwich especially if you had a lot of cranberry sauce left over.
Barbeque Turkey Sandwich
This is a quick and easy sandwich. We made in them in the microwave.
Leftover Turkey cut into chunks or slices
Barbeque Sauce (your favorite)
Coleslaw
Onion Hamburger bun
Put your turkey and barbeque sauce in a microwave safe bowl. I would use glass rather than plastic as it has a tendency to stain when cooking tomato based anything. Cook until the barbeque sauce is hot. Pile on to a bun and top with the coleslaw. Yum! And it was fast and filling.
Turkey Salad
We made these just like our favorite chicken salad.
Turkey
Mayo
Half of an onion chopped
2 stalks of celery chopped
Lettuce
Tomato
Wheat sandwich bread or bread of your choice.
Put all of your ingredients except for the lettuce and tomato in a food processor and process until you have the consistency that you like. We like ours chunky but some people like theirs smoother. Pile the salad on your bread and add lettuce and tomato or your favorite toppings.
Open Faced Hot Turkey Sandwich
Turkey cut into chunks
Leftover gravy
1 small can of mushrooms
Bread of your choice (We used the wheat sandwich bread again)
Put turkey in the gravy and add the mushrooms now you can drain them if you have a lot of gravy or add the can juices to stretch the gravy if you don't have a lot left. You can also use canned turkey gravy if you had none left over. When heated through pour over your choice of bread.
I hope this helps you get rid of some of those turkey leftovers and I hope your family loves your sandwiches as much as my family did.
Editor's Note: Sorry that we didn't get this up in time for Christmas leftovers. Hopefully some of you have a bargain turkey in the freezer that needs some inspiration.
Comments
Read More Comments