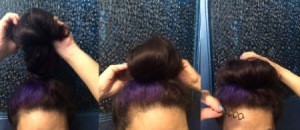 I really adore big, voluminous vintage style hair buns. I have a lot of hair, but not THAT much hair, so I use clean old tube socks with the ends cut off to bump up my hair bun.
Take an old clean sock and cut the toe end off. I like to use my husband's old black tube socks because they match my dark hair. They're also so long, they make the bun fuller (sorry, Hubby!). Roll up the sock starting at the cut end so it looks like a donut.
Put your hair in a ponytail and secure with an elastic band. Place the sock donut around the base of the ponytail, then pull the donut from the base of the head all the way to the ends of your ponytail.
Starting from the end of your pony, begin tucking and rolling the ends around the sock. Continue to slowly roll the sock (along with your hair) down the ponytail until you reach the base. As you roll, tuck loose strands underneath the donut. Tidy up any loose ends with bobby pins. I like one hefty spin-pin. :) Voila! Looking good!