PENNY K
Bronze Feedback Medal for All Time! 107 Feedbacks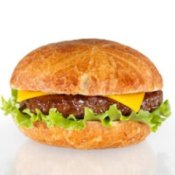 I was looking through my messages and realized I hadn't answered a request for the hamburger buns I make. Sorry! But I will share here since I read the suggestions for hamburger patties.
Why go to the bother of making hamburger buns? One, they are delicious, two you can make them larger than store bought, and three, they are more filling when trimmed with all the extras; really a great meal.
Use any white bread or whole wheat recipe you like, that contains milk. Milk makes bread more tender, tasty, and nutritious. One recipe will make 8 buns. Knead dough the first time as per instructions, let rise, knead second time and cut into 8 equal pieces,and then roll each piece into a ball.
Using hands or a rolling pin, flatten to about 4 inches across or close to that. Push down a bit in the center out towards the edges, so it looks like a round candy with a dip in the center. That's because as it rises it will end up fairly level, not with a big mound in the middle. Sprinkle cornmeal or cream of wheat cereal on a pan or baking stone and set flattened rounds a few inches apart on the meal, cover with plastic or wax paper and let rise.
Bake in preheated (350 degree F) oven when they are about doubled in puffiness for about 12 minutes. Could be a minute or two more, depending on how you like them. Should be very lightly browned. Remove pan and cool before taking off with spatula. Slice carefully across with knife. They should hold together if you are slow.
They can be grilled or popped in toaster for just a minute to heat when assembling buns. My family loves them.
By PENNY K from Westminster, CO

Robin
Diamond Post Medal for All Time! 5,887 Posts
Recipe for Best Burger Buns. Dissolve yeast in warm water. Add salt, sugar, beaten egg and melted butter with a wire whisk, a little at a time.
Then knead on floured surface, adding only enough flour to keep dough from sticking. A soft dough makes lighter buns.
Read More...