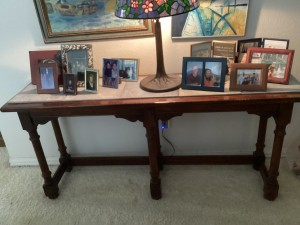 After 47 years of marriage and 22 years in this house, I'd love to be able to buy new furniture, but we just can't afford to right now. Our red floral couch had gotten really worn in spots, so I put a leather-look slipcover on it, but never really liked that look. However, my son and daughter-in-law just bought new furniture, so they gave us their leather couch.
It's in great condition, and we love it, but it just emphasizes all our brown furniture. Everything is BROWN. I decided to upgrade an ancient side table and our coffee table a little. I don't know how old the side table is--my husband got it when his office closed down, but it screams 70s to me. The coffee table is over 20 years old.
When we built this house, we used tile in several rooms called French Market. A lovely blue-gray with touches of maroon. We've had several leftover pieces we've saved. I laid 5 of them down the middle of the side table. I keep a lot of family pictures on it, and the tile actually gave it more room to spread them out.
When the North Pole descended upon Texas in February, 2021, we had 3 or 4 burst pipes under our master bedroom, bathroom, and closet. We had to have all the carpet in our bedroom and closet and the flooring in the bathroom completely torn out. We decided to go with tiles throughout, but the tiles we used 22 years ago were no longer available, so we found some that was as close to it as possible. We asked the contractor to leave the leftover pieces.
Those tiles are what I used on the coffee table.
I did hot glue some fabric on the backs, though I'm not that concerned about scratches on the coffee table. And my husband did have to borrow my son's electric tile cutter to make them fit.
Overall, we're happy with the way everything turned out and it didn't really cost us anything as we just used what we already had. I've discovered that we really don't have to use coasters if we don't want to.
Furniture is still brown, but the tiles break that up a little. I'm still considering chalk-painting the side table with grey, but maybe later. I've also got some flexible tile that was used in our shower that I plan to make coasters with. But that's later.