I love the heavy duty clips to hold your cords in place. As long as you have a 'lip' that you can clip them to, they are great to use to thread your phone cords or other cords through.
I also use them to hold pens, or other things, and then you will have a 'holder'. They can then hook onto other things like a cup hook or a nail. If you really want to be creative, you can even decorate them with fabric, ribbon, a bow, or paper to go with your home decor. :-)
By CDC from FL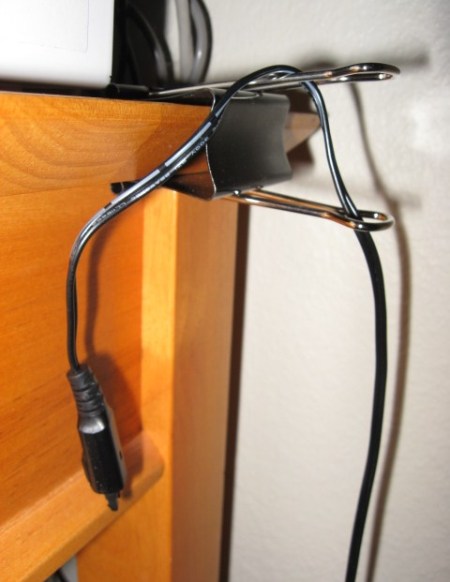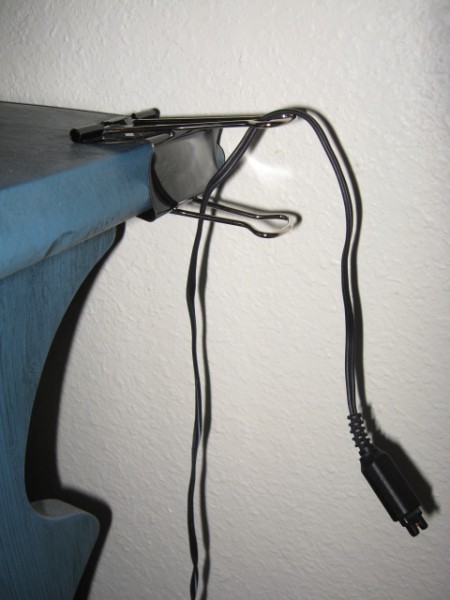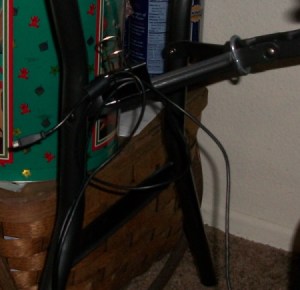 I am constantly taking photos, especially with this wonderful site! I leave my USB plugged into the computer then plug the camera end into the camera when I need it. Due to lack of space, I have to have my tower on the floor.
Being disabled, this means bending over in half to pick up the cord from the floor where it inevitably lands after I attempt to throw it on top of the tower.
I was retrieving the cord today when I saw a binder clip on the floor under the under support of the table. It hit me that I can hook it on the clip rather than hunt or bend over to find it.
Now, I know that most of you won't have my set up, table style or need. But, if you do, I hope this helps. It is within reach and now I don't even have to unwrap it but once to reach the camera.
PS: Sorry the shot isn't stellar, but you get the picture - no pun intended
By Sandi/Poor But Proud from Salem , OR
Use binder clips to hold your cables to keep them from falling behind the desk.
Source: ThereIfixedit.com
By Elaine from Belle Plaine, Iowa