Uses for Candy Gift Boxes
Solutions
Share on ThriftyFunThis guide contains the following solutions. Have something to add? Please share your solution!
I'm sure most ladies got chocolates for Valentines Day. Those beautiful boxes are way too pretty to pitch in the trash when they can be reused.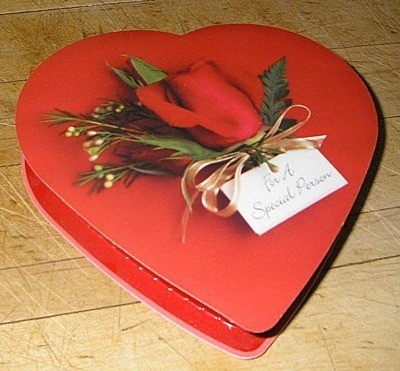 Take the heart box you got for Valentines day and use it to store your jewelry. This recycles the material and keeps it out of our landfills. You'll also find you no longer have problems with chains being knotted.
The boxes can be put in a drawer or displayed on a table. If you do not like the picture on the heart you can easily decoupage it to match other items in your bedroom.
You can also reuse the chocolate boxes to keeping sewing items sorted so they are easily found.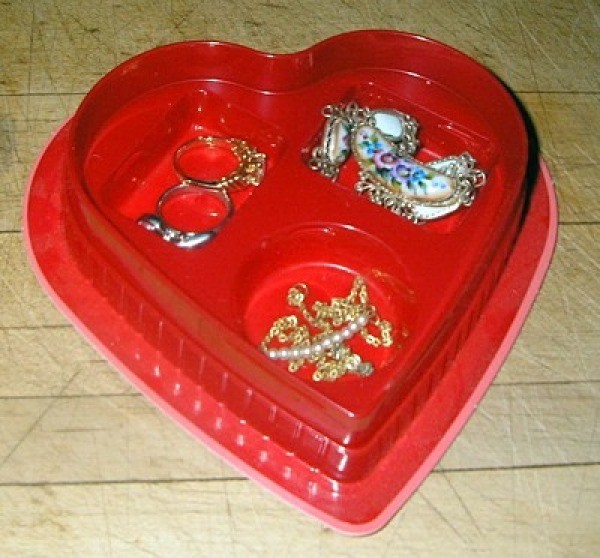 By Gem from VA
I have small Venetian glass manger set that had lost some pieces over the years until I realized that they could fit into the little pockets in gift candy boxes and be further cushioned by the "beehive" candy cover paper; haven't lost any since.
Archives
ThriftyFun is one of the longest running frugal living communities on the Internet. These are archives of older discussions.
March 23, 2011
0

found this helpful
Just in time for heart shaped candy boxes next month for Valentine's Day! After the chocolates are gone, leave the insert in the box!
These are great organizers for: jewelry, nuts, bolts, screws, nails, small desk items like push pins, stamps, change, paperclips, etc!

By Missy MM from OH
Answers:
Reusing Candy and Chocolate Boxes
I've found that nothing beats ice trays for storing jewelry. (01/13/2010)

By TXBetty
Reusing Candy and Chocolate Boxes
I think this is a wonderful idea! Thanks! (01/13/2010)

By Deeli
Reusing Candy and Chocolate Boxes
The Candy Boxes are not only great organizers but they are also Decorative! They have a lid to keep items dust free and disguised! So therefore this is a Great Multi function Recycle item! (01/17/2010)

By Missy MM
January 11, 2010
0

found this helpful
My mother reused a Whitman's sampler box (chocolate box) to store her bobbins and spools of thread. Now I'm looking for additional uses for this beautiful box!

By Gapotter from Raleigh, NC
Answers:
Reusing Candy and Chocolate Boxes
My mother did the same thing. She would keep her bobby pins and brush curlers in one, her earrings in another and letters in still another.
I don't get many Whitman Sampler boxes as I am trying to stave off Diabetes, but a friend of mine whose hubby gives her candy regularly, saves me her "Godive Chocolates" boxes that I use for my everyday earrings. They're just so pretty, and every once in a while I get a brand new "jewelry box"! (08/23/2009)
By fab4mom
August 20, 2009
0

found this helpful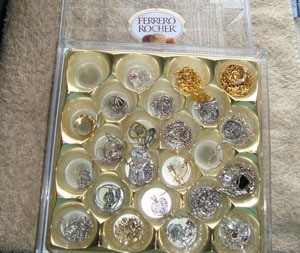 I use the empty Ferrero Rocher box (it's plastic and clear and I already enjoyed the chocolates) for my jewelry, also for storage on my dresser for odds and ends that get scattered all over. You can see in the box at a glance. Easy to stack out of the way or even in the open since box is rather pretty.
Feedback:
RE: Reuse Fancy Chocolate Containers
After a recent apartment building fire, I had to quickly clean house and decide what would go to our new apartment) and what would be trashed, donated or recycled. I had one of these big square Ferrero Rocher containers. I almost recycled it, but didn't, as it's such a nice sturdy container. In our new apartment, it now holds koolaid and instant drink mix tubes. (05/15/2009)
RE: Reuse Fancy Chocolate Containers
Have never received or purchased that particular brand of chocolate but hearing this tip I'll definitely find a use for the box if I ever do :-) Thanks for the tip! (05/16/2009)
RE: Reuse Fancy Chocolate Containers
I have also found that the smaller containers that hold 16 (?) - they're rectangular, are also good to keep your lipsticks in as several tubes can fit in there nicely. On top of that the lid is pretty secure too so there's no 'spillage.' (05/16/2009)
RE: Reuse Fancy Chocolate Containers
LOL I have that exact same box and that's what I use it for too! (05/18/2009)
May 15, 2009
0

found this helpful
Although I never could afford Godiva chocolates, my friend always got them for her birthdays and anniversaries. The boxes make the most beautiful containers for earring storage! That pretty gold covering looks so elegant. And just about the time it begins to wear out, another one comes along. My mother did the same thing with a Whitman's Sampler box way back when!

By fab4mom from Walker, LA
Answers:
Reuse Fancy Chocolate Containers
I remember just wanting those type of boxes for their prettiness. I would put sewing things in them. In the 50's and early 60's, things like that were where you found them, not where you bought them. (12/11/2008)

By PIKKA
Reuse Fancy Chocolate Containers
My husband will deliberately buy things in decorative containers because he knows I'll happily reuse them for years. My hair "doodles" are in one right now. This beautiful, heart-shaped metal box originally contained some sort of decadent chocolate balls that were filled with a buttery liquid.

I also remember when they sold cigars in wooden boxes. Slap a little contact paper or wallpaper inside and out, and they were the perfect size to save old letters and just about anything else!

Anytime you can get something in any kind of reusable package - whether it's metal, wood or plastic - it's like getting two for the price of one! (12/12/2008)

By JustPlainJo
Related Content